Mesh Fencing is a combination of wires in the horizontal and vertical direction welded at their junctions to provide a rigid fence. A number of differing designs are manufactured from 3mm to 8mm wire at varying spacings for economy or strength.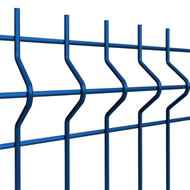 Welded mesh fencing panels offer an extremely high resistance to vandalism. Welded mesh fencing panel combines shape and panel strength for a pleasing see-through perspective and the positive properties of chain link fence and railings in a unique way. Welded mesh fencing is characterized by it's attractively profiled mesh panel.

We have developed a new series of security mesh fences that are sold well abroad.
Detail as follows:
A. Height of Fence Panel: 830mm, 1030mm, 1230mm, 1530mm, 1730mm, 2030mm, 2430mm;
B. Post: 60 x 40mm,60 x 60mm and 80 x 60mm;
C. Wire gauge: 3mm, 4mm, 5mm, 6mm;
D. The aperture size: 50 x 150mm, 50 x 200mm, 55 x 200mm
E. Available in a range of sizes, colors

Welded Mesh Fencing Security System is one of the most comprehensive and widely used ranges of welded mesh fencing products and are designed to cover the broadest spectrum of applications in almost every category of the modern fencing market. Specifications can be customized.
Specification:
Specification for welded mesh fencing