Wire Mesh Products
Welded Wire Mesh
Welded wire mesh is one popular materials in concrete, construction and industry. It is made of low carbon steel wire, stainless steel wire after welding and surface treating. Welded wire mesh fabric is widely used in building construction, protection system,filtration, food, agriculture and so on.
Welding type
1-Electro galvanized wire mesh(welded before galvanized, welded after galvanized)
2-Hot-dipped galvanized wire mesh(welded before galvanized, welded after galvanized)
3-PVC coated welded wire mesh
4-Stainless steel wire welded mesh
Material: Low-Carbon Iron Wire
Application: Construction Wire Mesh
Length: 5m,10m,25m,30metc
Width: 0.5-1.8m
Specification
Opening Wire Diameter
In inch In metric unit(mm)
1/4" x 1/4" 6.4mm x 6.4mm 22,23,24
3/8" x 3/8" 10.6mm x 10.6mm 19,20,21,22
1/2" x 1/2" 12.7mm x 12.7mm 16,17,18,19,20,21,22,23
5/8" x 5/8" 16mm x 16mm 18,19,20,21,
3/4" x 3/4" 19.1mm x 19.1mm 16,17,18,19,20,21
1" x 1/2" 25.4mm x 12.7mm 16,17,18,19,20,21
1-1/2" x 1-1/2" 38mm x 38mm 14,15,16,17,18,19
1" x 2" 25.4mm x 50.8mm 14,15,16
2" x 2" 50.8mm x 50.8mm 12,13,14,15,16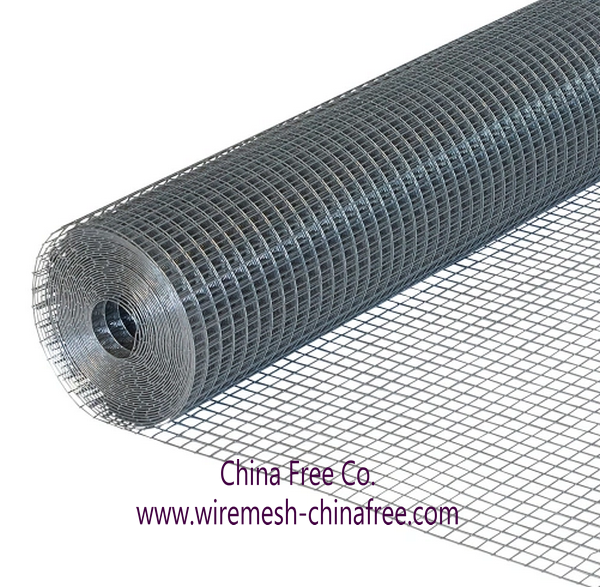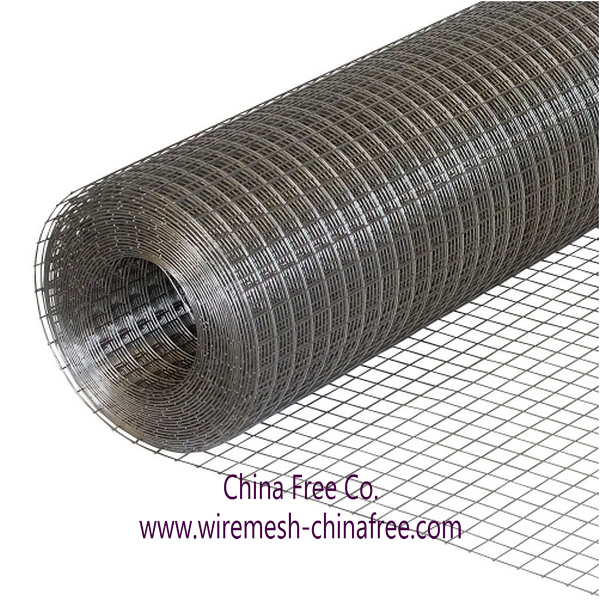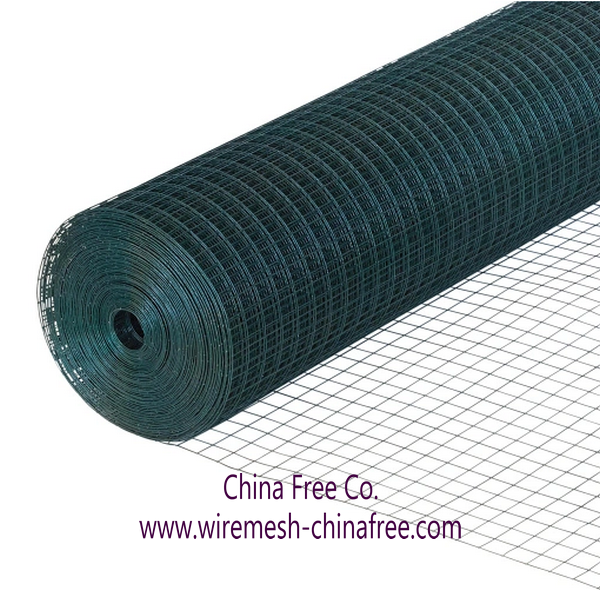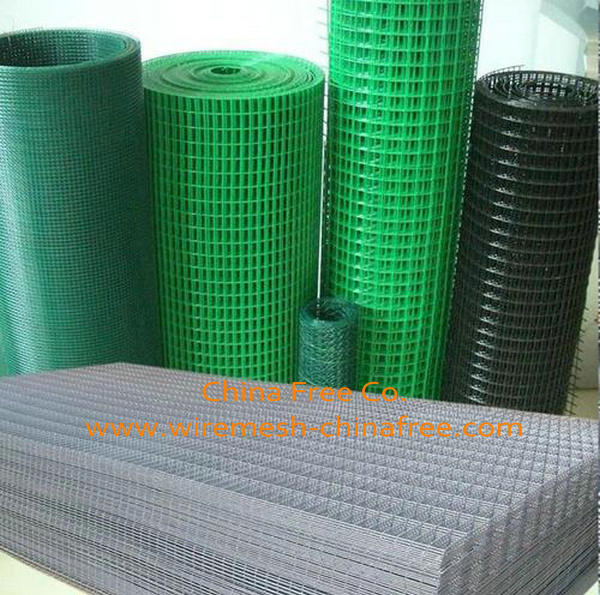 Welded Wire Mesh
Hesco Barrier
HESCO barrier is a modern military fortification, it's made of welded wire mesh lined with heavy duty non-woven geotextile. it is widely used for military fortification and flood control.
Material: Electro galvanized, Hot-dipped galvanized, Galfan etc
Wire Diameter: 3mm, 4mm, 5mm, etc.
Spring Wire: 3mm, 4mm, 5mm, etc.
Mesh Hole: 50mm x 50mm, 75mm x 75mm, 76.2mm x 76.2mm, 100mm x 100mm etc.
Geotextile: Heavy duty non-woven polypropylene.
Panel Size: 2.21mx2.13m, 1.37mx1.06m, 0.61mx0.61m, it also can be customized according to customer's requirement
Packing: wrapped with shrink film or packed in pallet.

STANDARD HESCO BARRIER SIZE:
2. Control and guide of water or flood
3. Flood bank or guiding bank
4. Preventing of rock breaking
5. Water and soil protection
7. Strengthening structure of soil
8. Protection engineering of seaside area.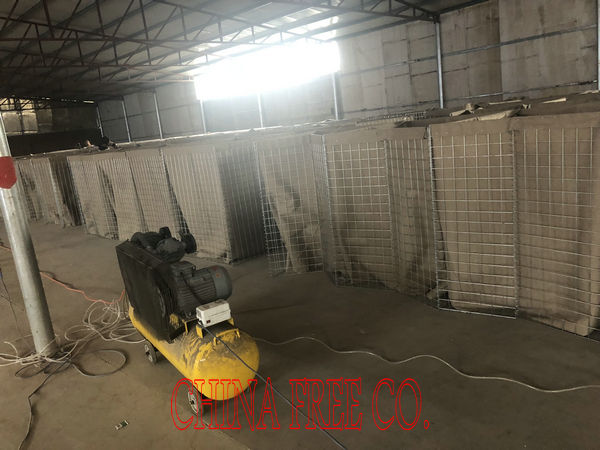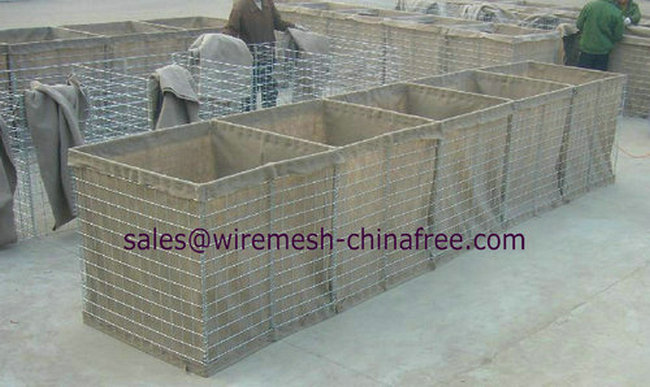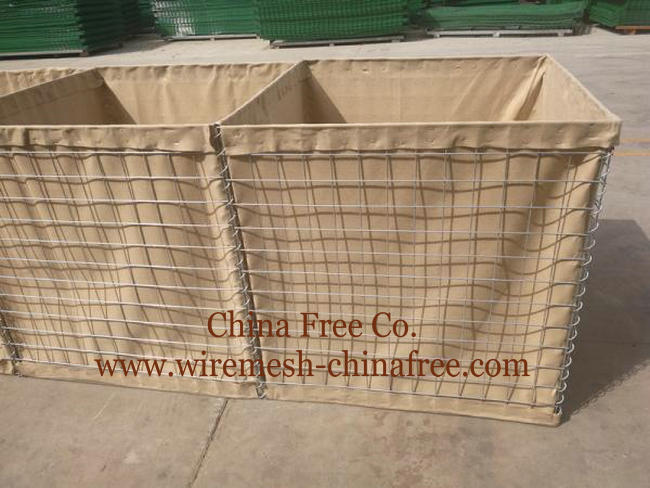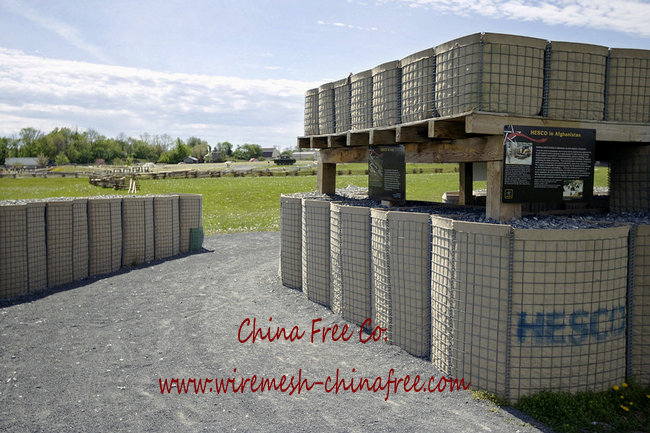 |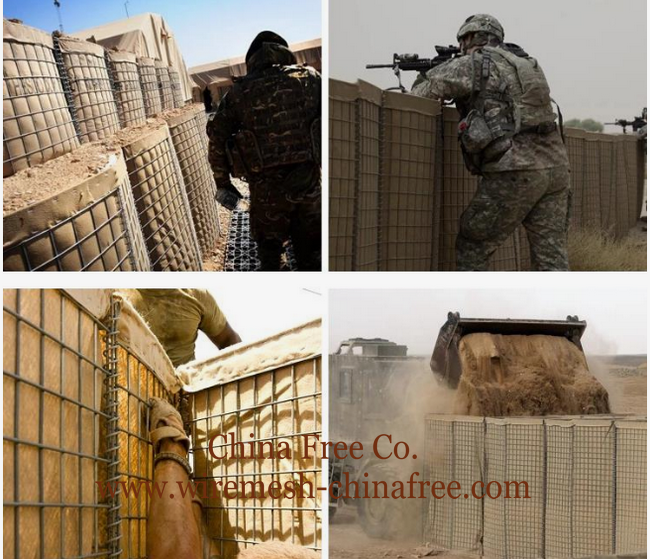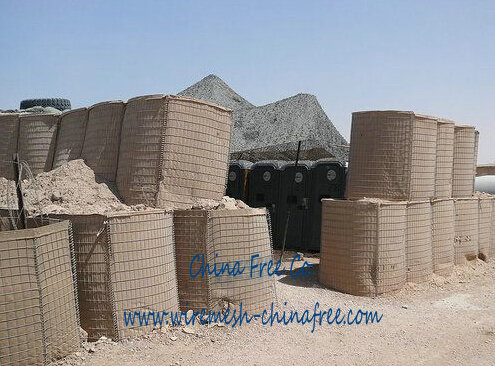 Hesco Barrier
Chicken Wire
Chicken wire mesh is manufactured in galvanized wire and pvc coated wire. it's used as light fencing for raising chickens, ducks, geese, rabbits and zoo fences.
1.Material: High quality carbon steel wire(black wire,EG wire, HDG wire, pvc wire), stainless steel wire(AISI 304,316).
2.Production Technology: weave by automatic weaving machine.
3.Surface Treatment: galvanizing, pvc coating.
4.Application:
1)Used as Building material,wall-strengthing,keep warm, heat insulation.
2)Poultry Farming: keep chiken or duck,cat,dog,fox. making cage, used as poultry fence.
3)Used as fence for houses and garden, used in food processing industries.
4)Extensively used as reinforcement and fencing in industrial, agricultural and constructions.
5.Feature:precise structure, uniform mesh hole,anti-corrosion,solid durable.
6.Product range:
-Electro galv. hexagonal wire netting : galv. after weaving
-Electro galv. hexagonal wire netting : galv. before weaving
-Hot dipped galv. hexagonal wire netting : galv. after weaving
-Hot dipped galv. hexagonal wire netting : galv. before weaving
-Pvc coated hexagonal wire netting: first PVC wire,then weaving
-Pvc coated hexagonal wire netting: first weaving, then PVC coated.
-Stainless steel hexagonal wire netting: first ss wire, then weaving.
7.Popular Specification:

CHICKEN WIRE SPECIFICATION

1)roll height: 3', 4', 5', 6'

2)roll length:10m,30m,50m.

3)Weaving type: normal twist, reverse twist.

4)Reverse twist available for hole size 1"to 2".

5)Edge: one-wire edge, two wire edge.

6)we can make reinforcement wire inside the netting.

7)Packing: water proof paper or Shrink Plastic film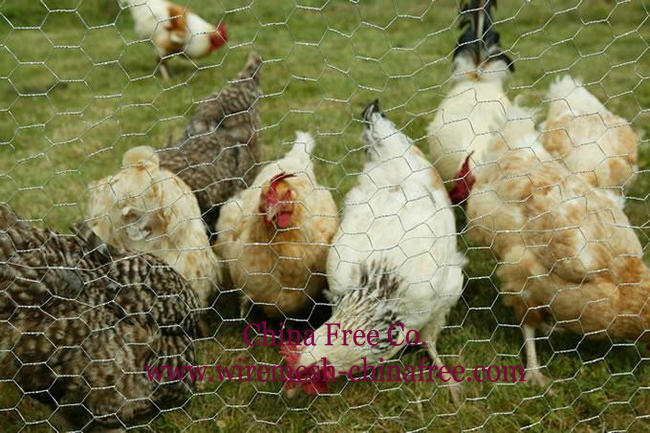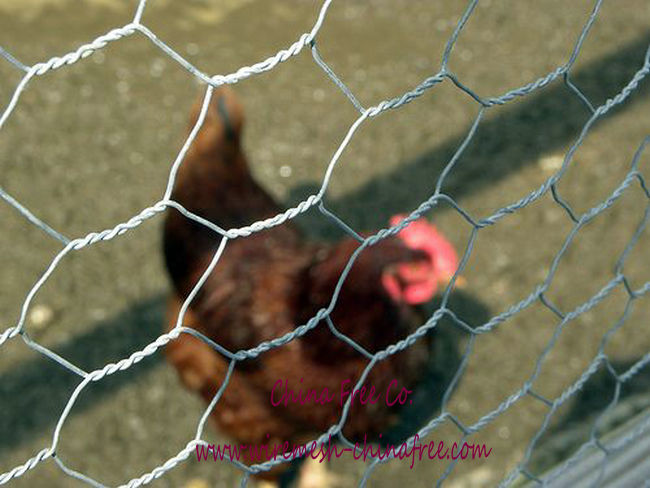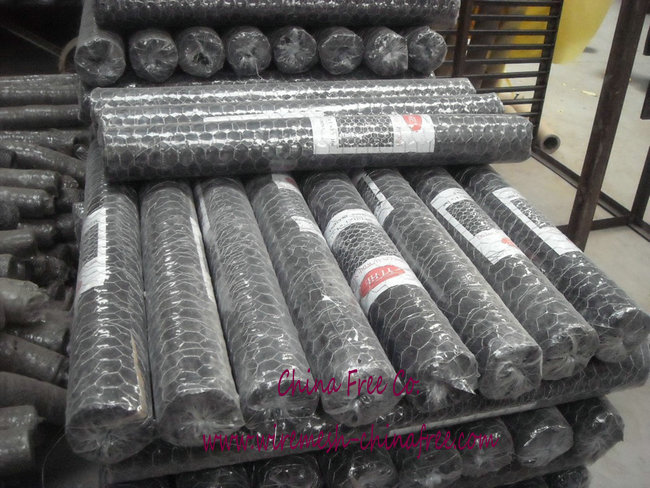 Hexagonal Wire Netting
Stainless Steel Wire Mesh
Stainless steel wire mesh is a woven type mesh which is made of stainless steel wire. It is also named stainless steel mesh, stainless steel woven mesh, stainless wire mesh and ss wire mesh. Its performance is very good in acid resistance, alkali resistance, high temperature resistance. The mesh could be used for oil, filter, food, mining, medicine, machinery, aerospace and chemical industry.

Weave types:
1: Plain weave.
2: Twill weave.
3: Dutch weave.

Specifications:
Wire diameter: 0.019mm - 2mm;
Opening: 1 mesh - 3100 mesh;
Length: 50ft (15m) or 100ft (30m), other length could be order request;
Width: 3ft (0.914m), 4ft (1.22m), 5ft (1.5m), 6ft (1.8m), 6.5ft (2m), other width could be order are request.
Stainless steel wire mesh main material:
SUS201/202;
SUS316/316L.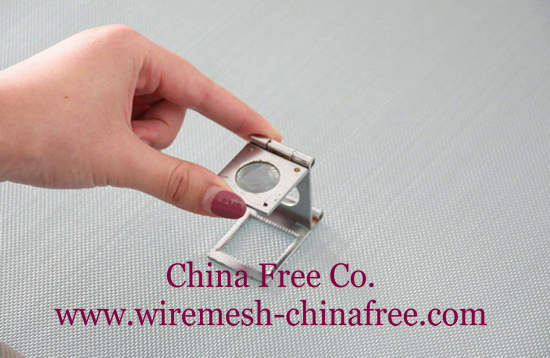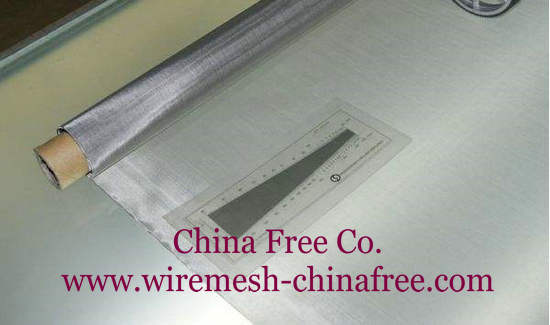 Stainless Steel Wire Mesh
Metal Conveyor Belt
Conveyor belt are used as components in automated distribution and warehousing. In combination with computer controlled pallet handling equipment this allows for more efficient retail, wholesale, and manufacturing, distribution. It is considered a labor saving system that allows large volumes to move rapidly through a process, allowing companies to ship or receive higher volumes with smaller storage space and with less labor expensive cost.

Material of conveyor belt:
1) stainless steel wire.
2) carbon steel wire, galvanized wire.
3) nickel chromium wire, chromium aluminum wire.

Characteristics:
1)the product has the characteristics of good conveying function,anti-break and oxidization
2)high cold and hot expansion,even mesh opening and thickness.
3)steady running without deflection.

Application of conveyor belt:
1)the product is mainly used in roasting foodstuff,industrial heat treatment,
2)chemical industry,pharmacy,glass and ceramics making,
3)Petroleum, metallurgy, food processing machinery, etc.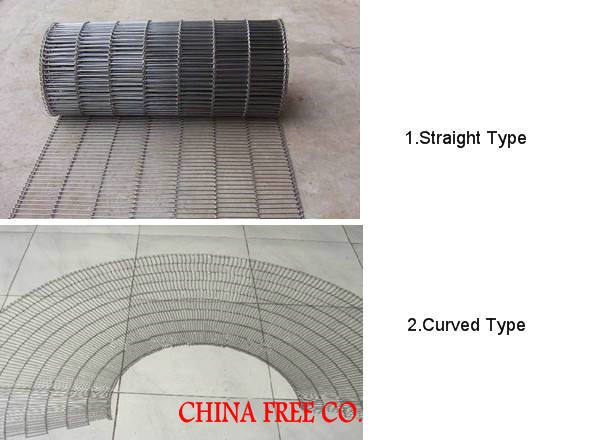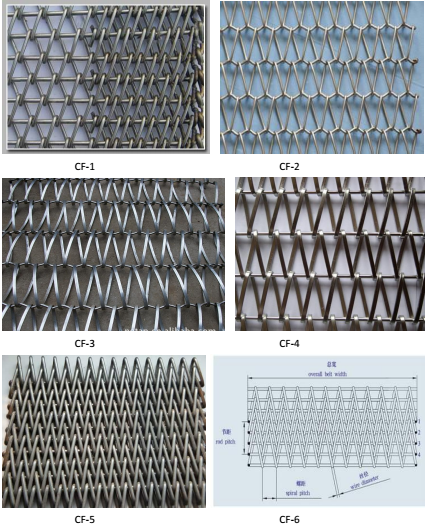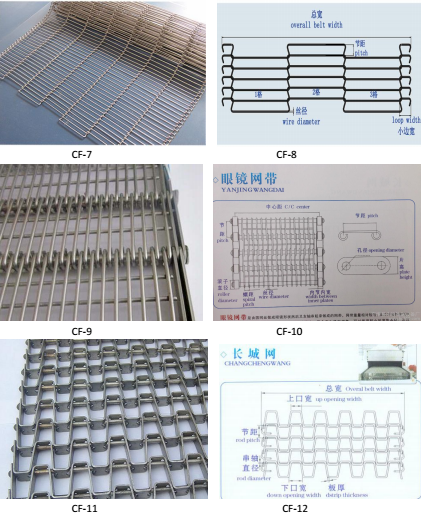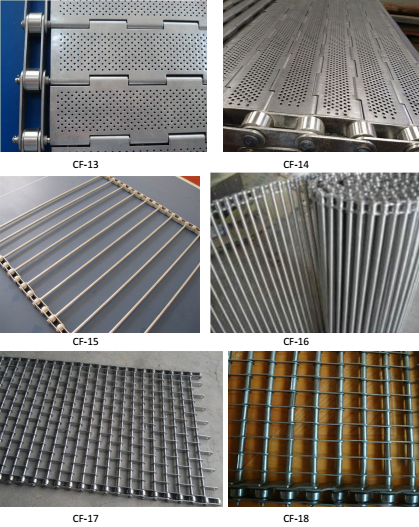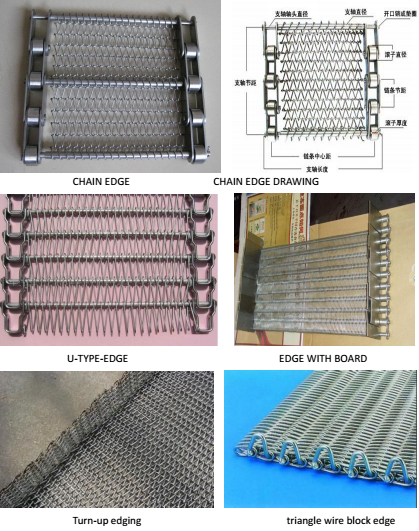 Metal Conveyor Belt
Wire Mesh Disc
Wire mesh filter discs are mainly used in absorption, evaportion and filtration process in petroleum, chemical, medicine, machinery, ship and automobiles.
Materials: black wire, stainless steel wire, copper wire, phosphor bronze wire, brass wire, galvanized steel wire, aluminum wire, etc.
Wire diameters: 0.01 - 6.00 mm.
Disc diameters: 5 mm - 600 mm (custom size: 8 mm - 3800 mm).
Disc shapes: round (diameter 44 - 600 mm), ring (inner diameter 18 - 250 mm, outer diameter 50 - 350 mm), rectangular (length 60 mm - 400 mm, width 50 mm - 100 mm), crescent, semicircle, square, oval, abnormal shape, etc.
Weaving types: plain weave, twilled weave, dutch weave, plain dutch, twilled dutch, etc.
Layers: single layer or multiple layers.
Edge processing methods: spot welding, wrapping edge or no edge processing.
Marginal materials: stainless steel, copper, aluminum, rubber, etc.
Filter precision: 0.1 - 300 μm.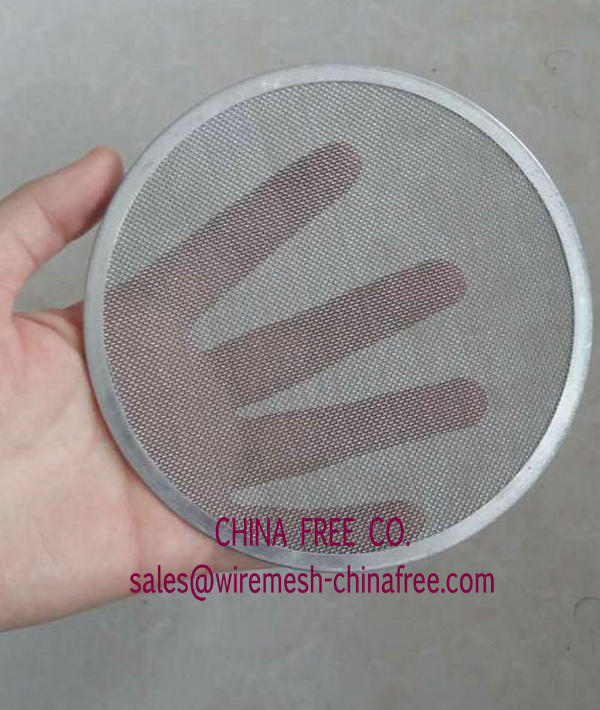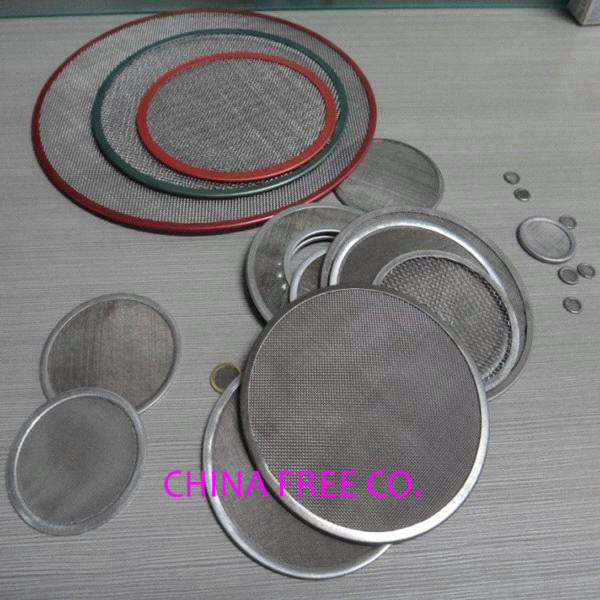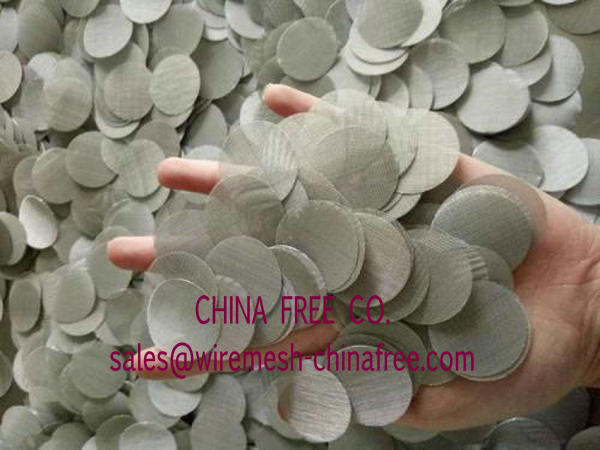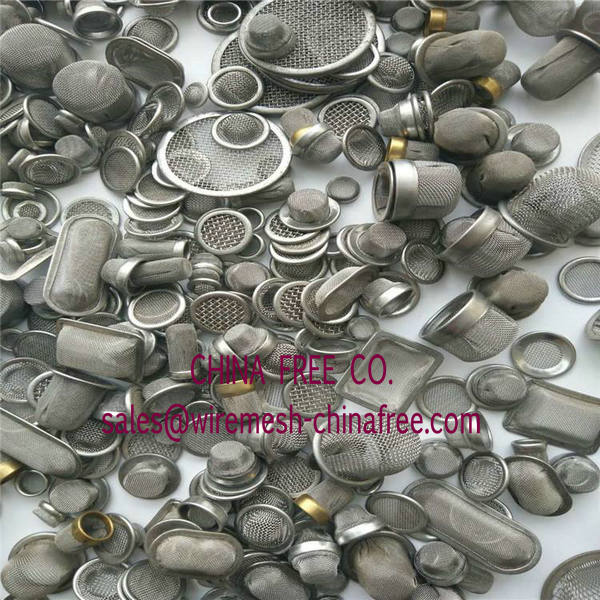 Gabion Box
Gabion box is made from the woven wire mesh.Its also called as gabion mesh,gabion basket, Its widely used for the protection of slope,mountain,railway and highway.
The main raw material for Gabion box:
1)Hot dipped galvanized wire,with heavy zinc.(zinc weight from 60g-300g/m²)
2)PVC coated hot dipped galvanized wire;
3)Galfan wire(Zn+5%Al or Zn+10%Al)
4)PVC coated Galfan wire.
GABION MESH SPECIFICATION
5.GABION MATTRESS SPECIFICATION
Application:
-Reinforece the riverbank and channel flood off; Rock falling protective project
-Water loss and soil erosion protection; Soil reinforcement wall
-Sea side erode resistance project; Port projects; Retaining wall; Road project.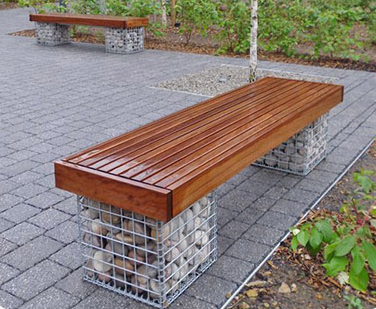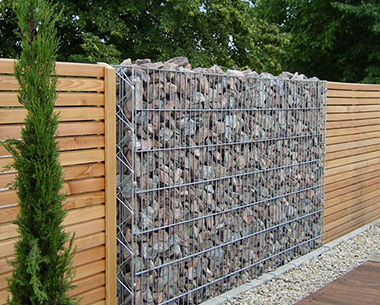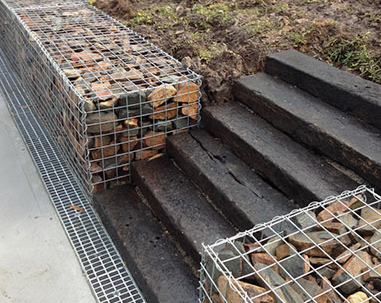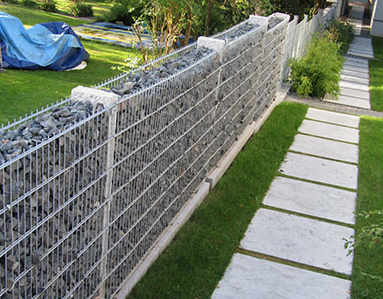 |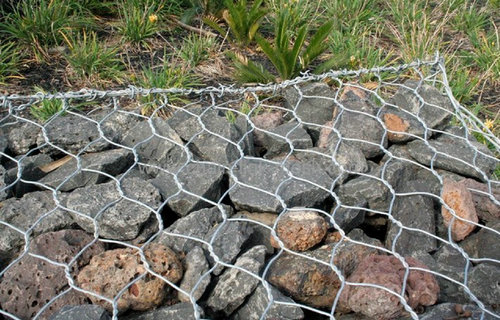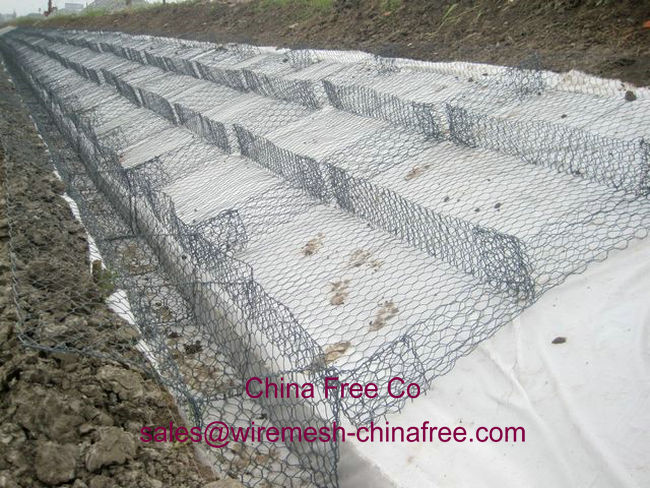 Gabion Box
Razor Wire
Razor barbed wire is a kind of modern security fencing materials with better protection and fencing strength made of hot-dipped galvanized steel sheets or stainless steel sheets.
With beautiful and sharp blades and strong core wire, razor wire has the features of secure fencing, easy installation, age resistance and other properties.
Material: high carbon steel, galvanized steel sheet and wire, stainless steel sheet and wire.
Blade styles: BTO-10, BTO-12, BTO-18, BTO-22, BTO-28, BTO-30, BTO-60, etc.
Outside diameter : 450mm, 500mm, 600mm, 700mm, 800mm, 900mm, 960mm, 980mm, etc.
Number of Loops: 33, 56
Clips: 3 or 5 or no clips.
Package: Inner proof paper, outside weave bag or Carton.

Razor Barbed Wire is widely used in military affairs, prison, government, bank, and also in living wall, personal house, villatic wall, window, autobahn, railway and border of the fence.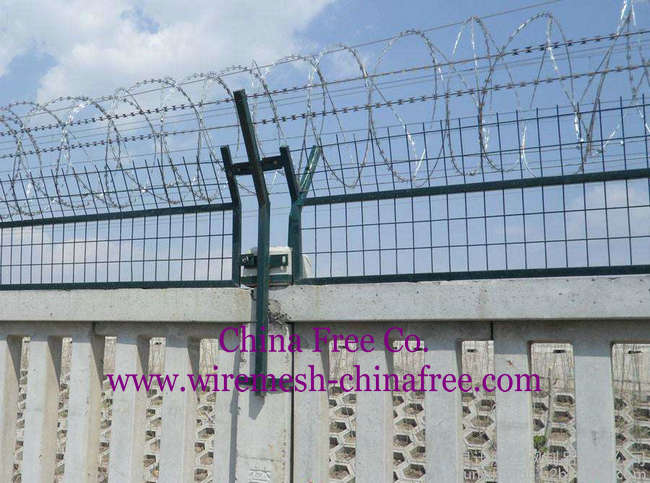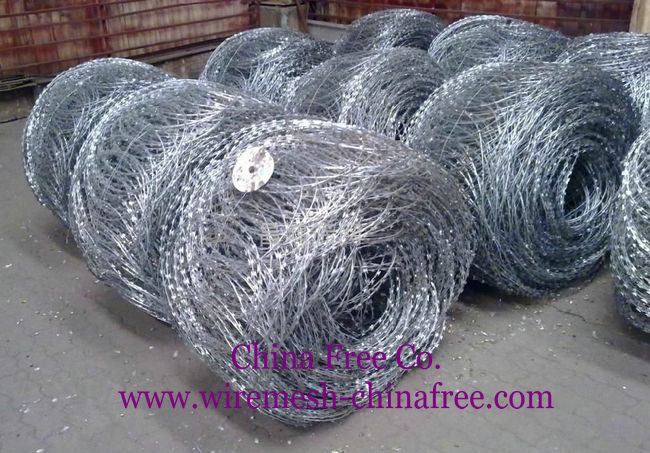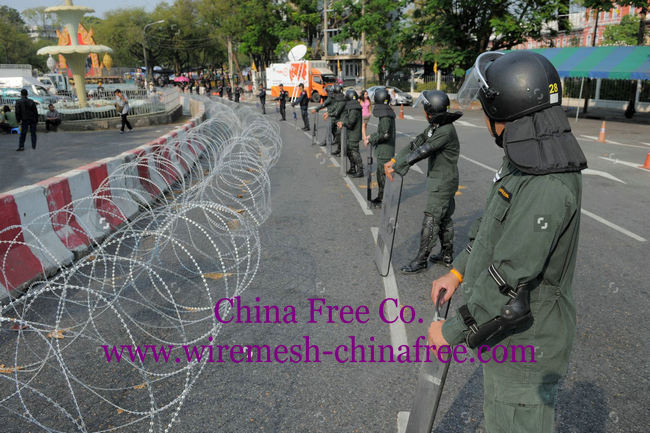 Razor Wire Used On Ships For Anti-piracy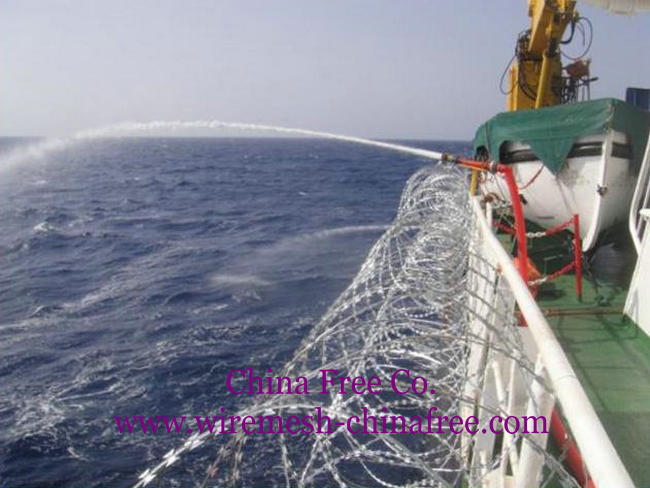 Razor Wire
Barbed Wire
Barbed wire
1.Raw material
1)Electro Galvanized barbed wire.(zinc 10-30g/m²)
2)Hot Dipped Galvanized barbed wire.(zinc 40-350g/m²)
3)PVC Coated barbed wire.(pvc colour are green,blue,yellow,black,etc.)
4)Stainless Steel barbed wire.(Grade AISI 304,316)

2.Shape of barbed wire
1)shape-1: .one strand bared wire.
2)shape-2: two strand,single twist
3)shape-3: two strand,double twist.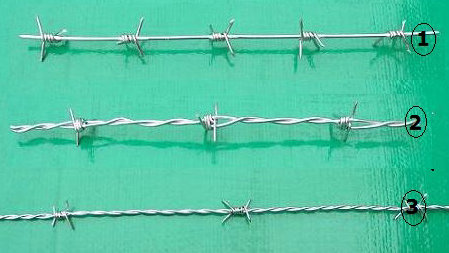 4.Detail Specificaiton for Shape-1:
1)Wire:1.8mm,2.0mm, 2.2mm,2.6mm.3.0mm.etc.
2)Barbed space: 50mm-150mm
3)One strand ,4 barbs, barb length:15mm-30mm

5.Detail Specificaiton for Shape-2:
1)Wire: 1.5mm-3.0mm
2)Barbed space: 75mm-150mm
3)Two strand ,4 barbs, barb length:15mm-30mm

6.Detail Specificaiton for Shape-3:
1)Wire:1.3mm-2.0mm
2)Barbed space: 75mm-150mm
3)Two strand ,4 barbs, barb length:15mm-30mm

7.Detail Specificaiton for PVC Barbed Wire:
1)Wire:1.5mm-3.0mm
2)Barbed space: 75mm-150mm
3)barb length: 15mm-30mm

8.Packing of Barbed Wire:
1)In rolls. 10Kg-50Kg/roll. Or 100m-500m per roll.
2)With wire handle or plastic handle;
3)With Client's label,hard paper around.

9.Advantage and Application of Barbed Wire:
1)firm and beautiful,high strength between fence post.
2)corrosion-resisting,oxidation-resisting.
3)barbed wire used in fence systerm or security systerm,good protective properties.
4)barbed wire is suitable for industry, military,agriculture, animal husbandry,house fence, plantation fencing.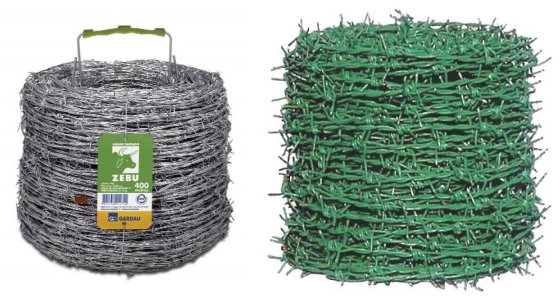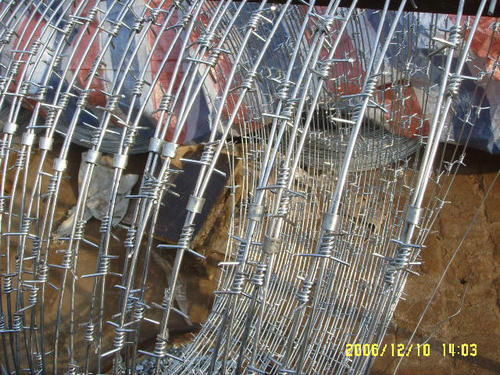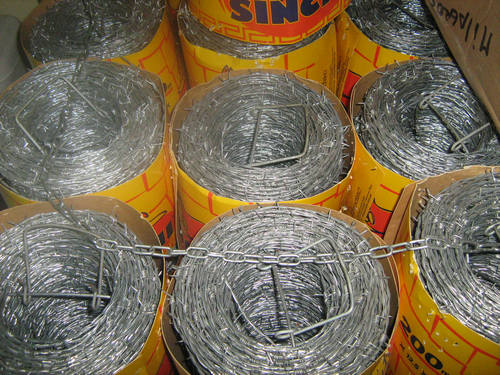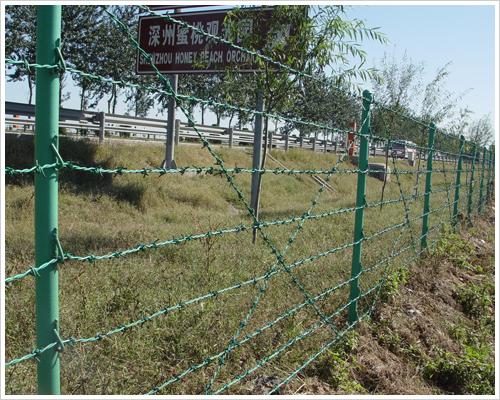 Wall Spike
We supply wall spikes, pvc coated spikes, bird spikes, wall spikes fence, anti climb spikes and razor fences for your security fence solution.

1.Product description: Wall Spike is a very effective solution to preventing individuals
from scaling fences, walls, roof's & gates. wall spike can be rapidly installed to existing
structures can maximise your sites security with ease.
2.Materials: hot-dipped galvanized ,stainless steel or PVC coated.
3.Specification:
(1)Thickness: 2.0mm
(2)Spike length: 60/90/120mm(small type/middle type/large type)
(3)Spikes per meter: 20
(4)Length: 0.5m/1m/1.2m/1.5m etc.
4.Application:wall spike is widely used in the garden, factories, airport, etc security fence protection,
to play a protective role, It can use anchors fixed on the wall, fencing, gates, buildings or metal guardrails.
5.Characteristics:
low cost, easy installation, high protective ability, beautiful and not rust.
6.Packaging: 10 units inside cardboard box.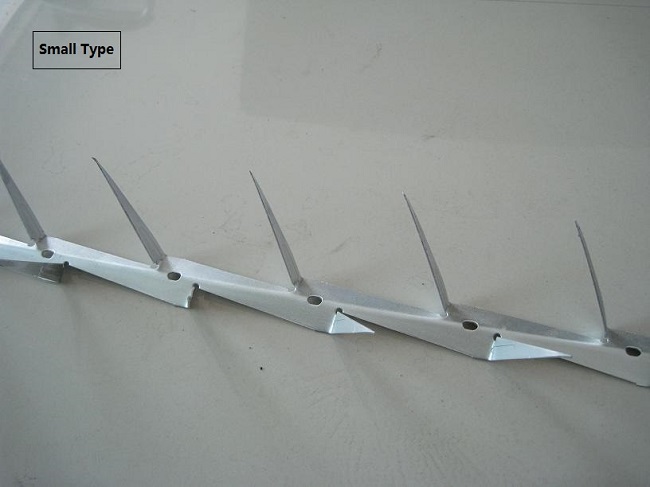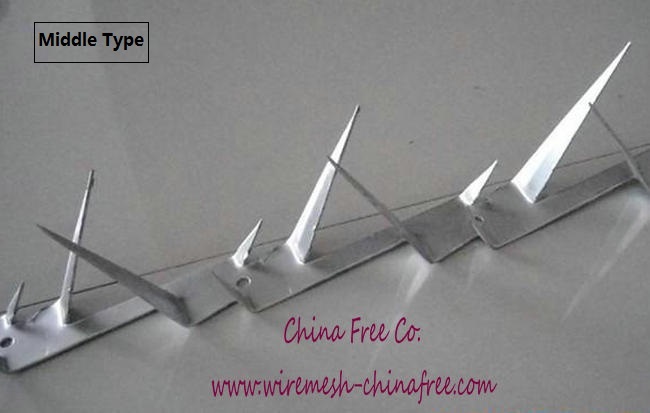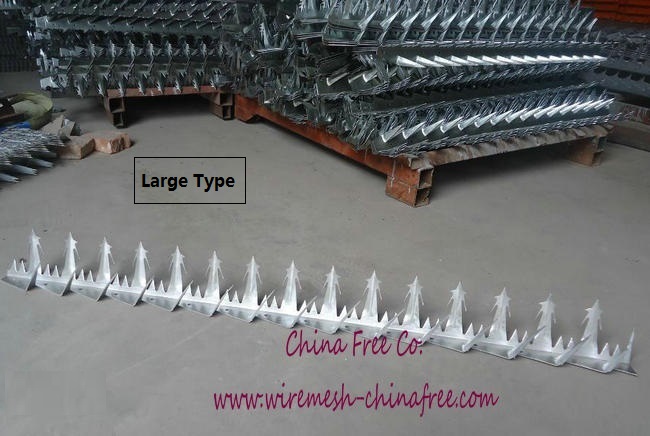 Galvanized Steel Grating
Steel grating is an essential structural component of many builds, particularly in commercial and industrial spaces. Steel Grating is specifically designed for high impact, high load applications, such as in walkways, stairs, platforms, and mezzanines. Steel grating is safer, will last longer, and will look better than any other underfoot options for industrial and commercial spaces.
Please get in touch if you are in need of steel grating.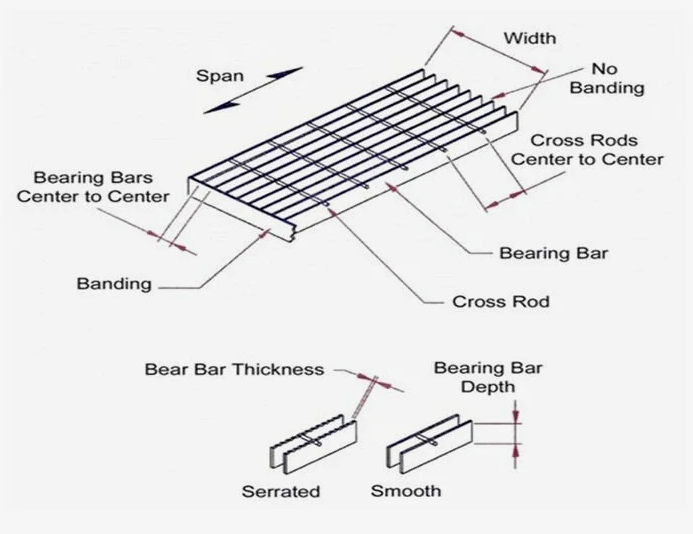 Production specification:

Detailed Information of Steel Grating

▪ Mild Steel (Carbon Steel)

▪ 3mm thickness with 20mm to 40mm depth.

▪ 5mm thickness with 20mm to 120mm depth.

▪ 8mm thicness, 10mm thickness with 60mm to 140mm depth.

▪ Customized size available.

Smooth bar, Serrated bar, Smooth I Bar, Serrated I bar

▪ 12.5mm, 15mm, 30mm, 40mm, 50mm

▪ Steel Pallet / Plywood Pallet, or according to customers' requirement.

▪ Walkway, Industrial Platform, Sump, Trench, Drainage and so on.

▪ ANSI / NAAMM(MBG531-88)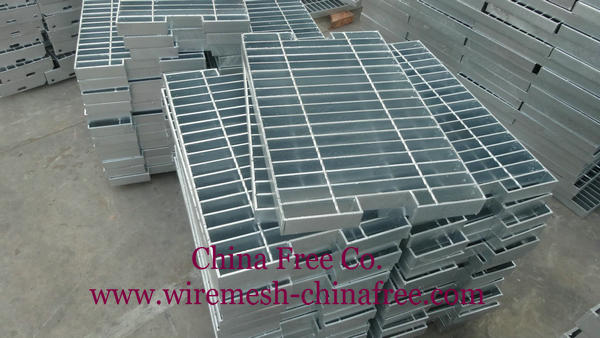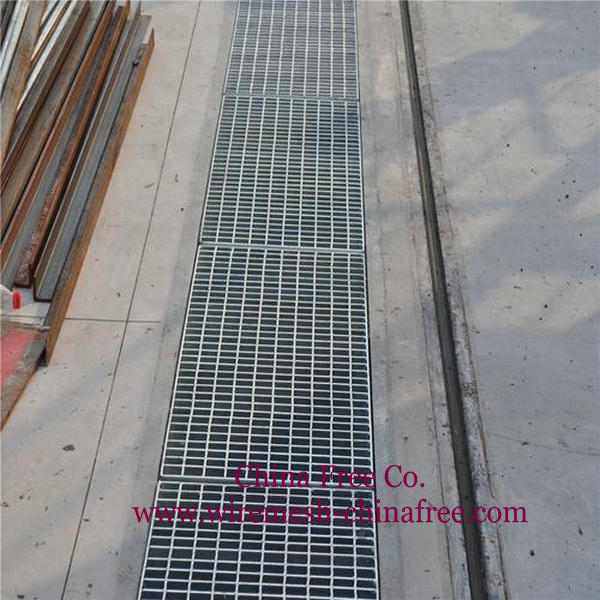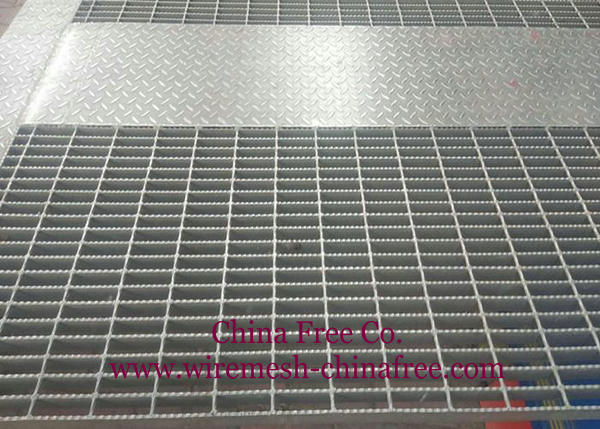 Expanded Metal Mesh
1.Name:expanded metal mesh
2.Material:Low carbon steel plate;stainless steel plate;Aluminum plate;brass plate, etc.
3.Production Technology:stamping and pressing.
4.Surface treatment:black plate,galvanizing,pvc coating,pvc painting;Anodizing Aluminum plate.
5.Product range:
1)Aluminum expanded metal mesh
2)Low carbon steel Thin/light expanded metal mesh;medium and heavy expanded metal mesh;
3)stainless steel expanded metal mesh;
6.Application:
1)used for the construction industry, roads and Bridges for the use of steel fabric.
2)used in building decoration, daily necessities, etc.
3)used in the machine filter, pharmaceutical, paper, filter, breeding, battery, packaging net,
mechanical facilities protection, handicraft manufacturing, high-end speaker net,
decoration, car seats, basket,blue and highway protection. Tanker feet on net, heavy machinery
and boilers, oil mines,locomotives and tonner steamship work platform, escalators, walkways.
7.Specification:
Specifications of Expanded metal mesh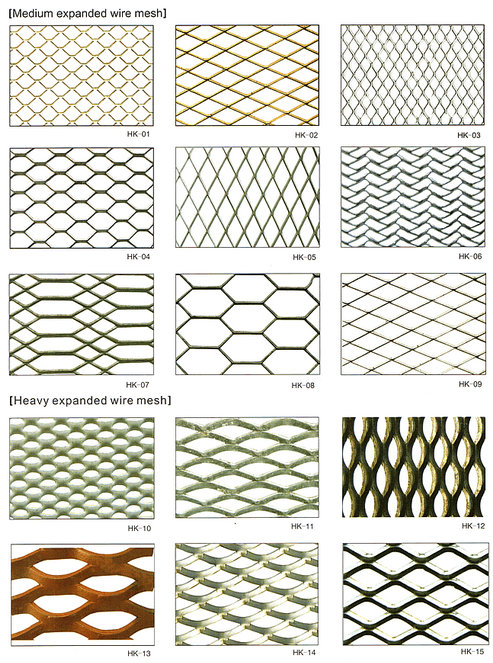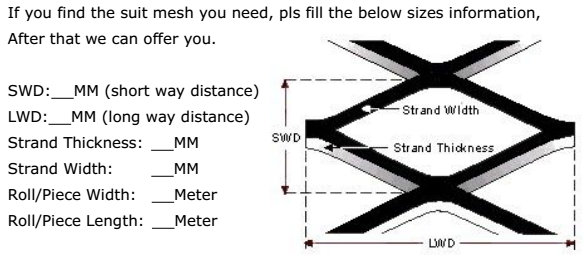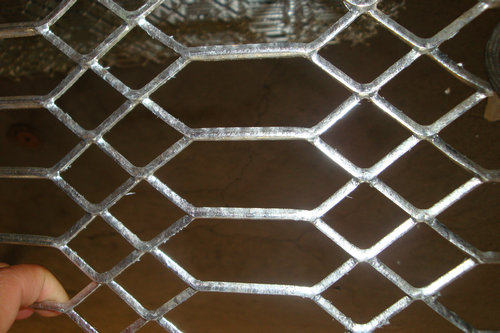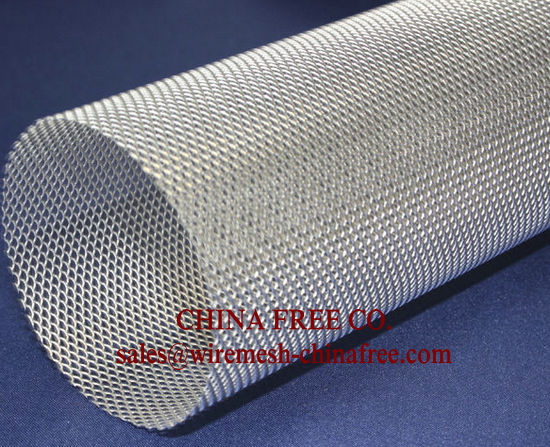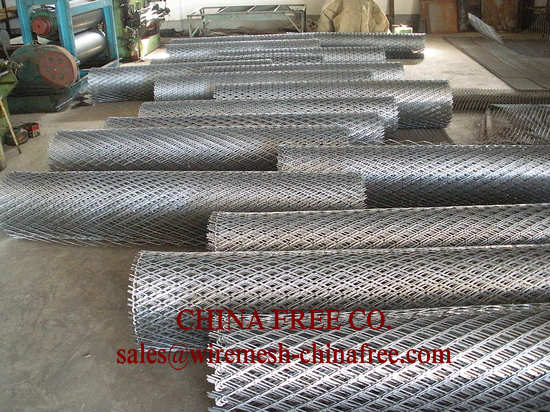 Square Wire Mesh
Galvanized square wire mesh can be used as window screen, safety guards in machinery enclosures, also used in filtering liquid and gas, sieving grain.
Material:
High quality carbon steel wire and stainless steel wire.

Surface Treatment: galvanizing,or no treatment.
Feature:
Uniform mesh,precise opening, anti-corrosion, firm and durable.
Application:
It is widely used in plastic industry, rubber industry, industrial filtration,
petroleum and chemical industry,food industry, Coal mine industry, which is used as filter material for particles,liquid and gas. It can also be used for mechanical accessories, safety protection.
1)Hot Dip Galvanizing square wire mesh
2)Electro Galvanizing square wire mesh
3)black wire cloth


SQUARE WIRE MESH SPECIFICATION
BLACK WIRE CLOTH SPECIFICATION

(1)weave method: plain weave,twill weave,dutch weave.

(2)roll length:30m, roll width:3'/1m/ 4'/5'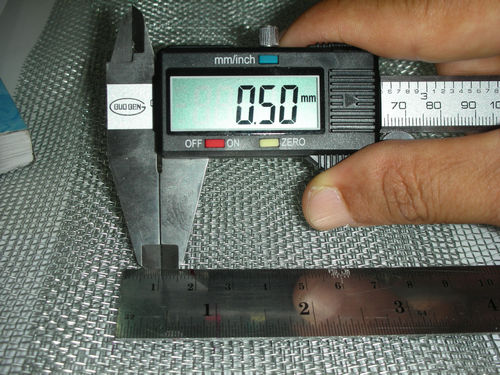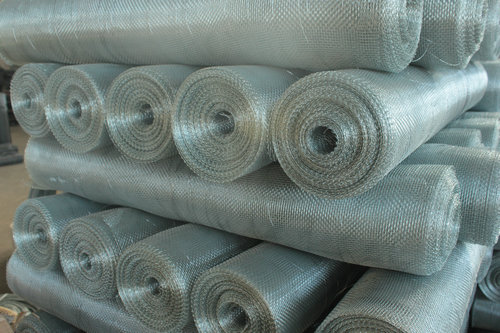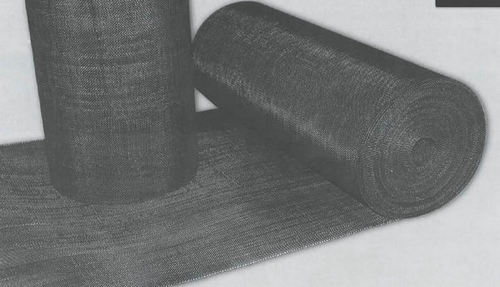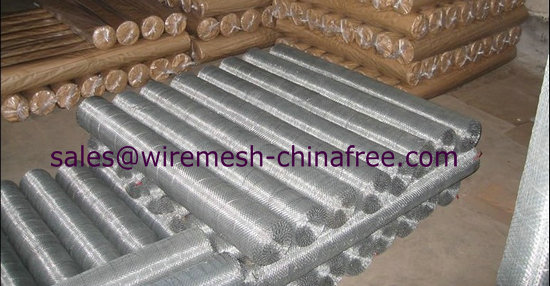 Square Wire Mesh
Perforated Metal Mesh
Material:Low carbon steel plate;stainless steel plate;Aluminum plate;brass plate;
and various of nonmetal plate.
Production Technology:CNC punching.
Hole shape:Round, rectangular, square, triangle, diamond, hexagonal, cross,
slotted and special patterns to get special decoration results.
Feature: flat smooth surface, uniform hole,firm enough;the usage is extensive.
Application:perforated metal mesh used for decoration, screening, separation, sifting, filtration,
drying, cooling, cleaning etc. It is widely used in filter of automobiles Internal-combustion engine,
sieving of mine,medicine,grain,sound insulation of room,ventilate of grain depot,etc.
Specification: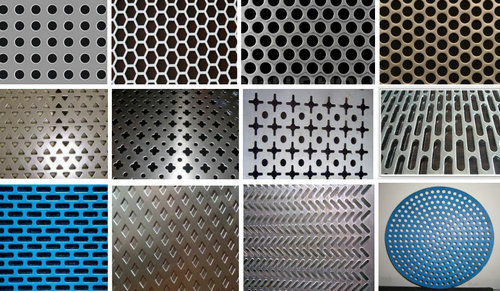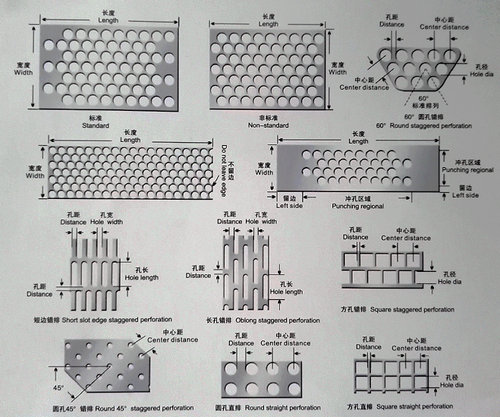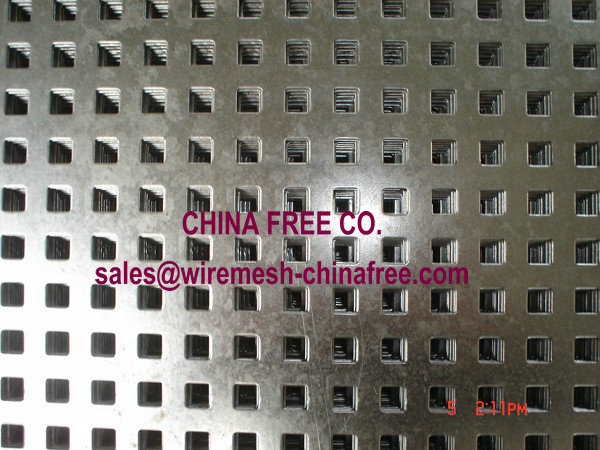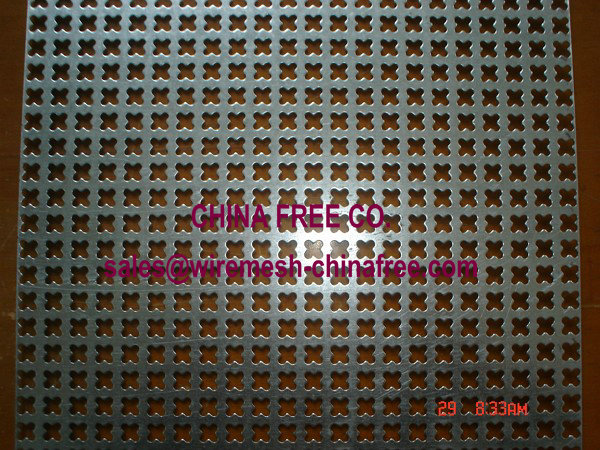 Brass Wire Cloth
1.Product: Brass Wire Cloth
(1)Material:brass wire H68 H80
(2)weave type: plain weave,twill weave
(3)Features: Good conductivity,heat-tansfer properties,non-magnetic,corrosion resistant,low ductility and wear resistant.
(4)Usage: screening of all kinds of particles, powder, porcelain clay, glass, chinaware printing, filtering liquid and gas.
(5)Specification: 1mesh-200mesh, roll width:0.6m to 1.5meters.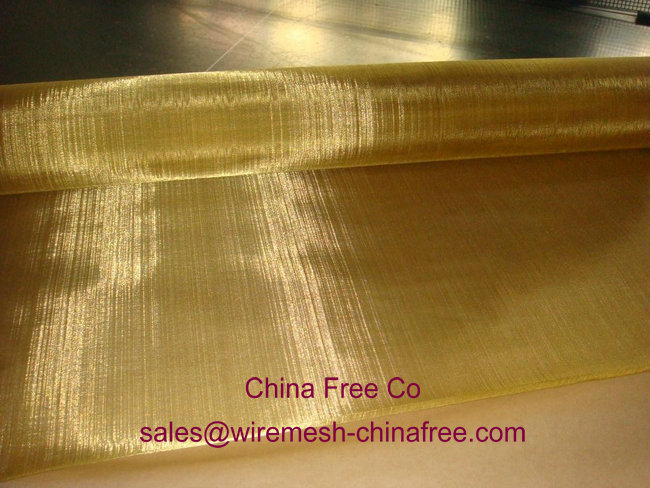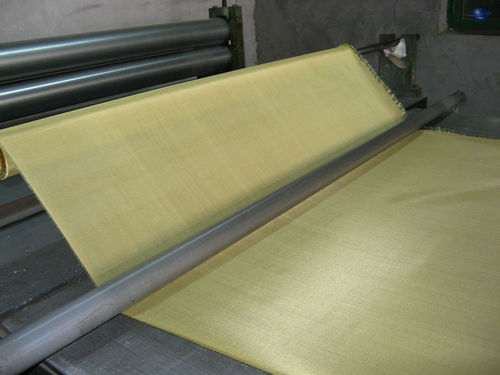 2.Phosphor Bronze Wire Cloth
(1)Material: Phosphor Bronze wire
(2)weave type: plain weave,twill weave
(3)Features: acid and alkali resistant,no magnetic, wear resistance, good ductility
(4)Usage: screening of all kinds of particles, powder, porcelain clay, glass, chinaware printing,
filtering liquid and gas.
(5)Specification: 1mesh-400mesh, roll width:0.6m to 1.5meters.
(6)We normally cut the above wire clothes into strips,the minimum width is 3 mm.
these wire mesh strips can be processed into circular, elliptical, square, rectangular,triangular,
trapezoidal, and other special shapes, we can do production according to customer's drawings.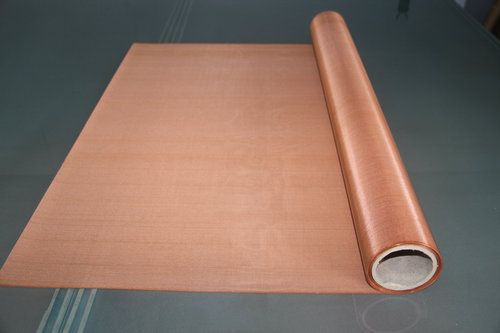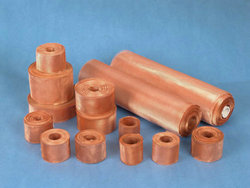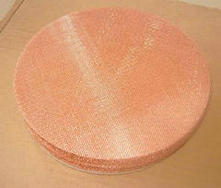 (2)weave type: plain weave
(3)Features: no magnetic,good sound insulation, filtering the electron beam.
(4)Usage: Screening of all kinds of particles, powder, porcelain clay, glass, wall insulation,
electronic display screen
(5)Specification: 1mesh-120mesh, roll width:0.6m to 1.5meters.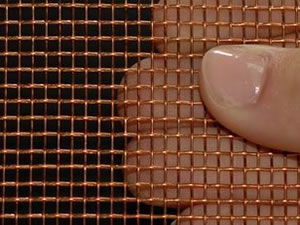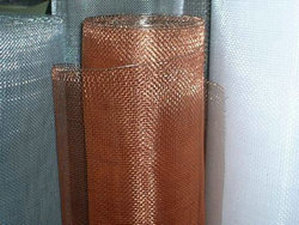 Brass Wire Mesh
Stainless Steel Security Mesh
Stainless Steel Security Mesh
Material: stainless steel wire mesh, carbon steel wire mesh.
Surface: Electrostatic spray.
Color: Black /gray/original/green/white.
Specification of security mesh:
Specification of security mesh

Special sizes can be produce as client's request.
Application:used in all types of windows and doors.
Features:
1)Flat,smooth mesh surface; precise,equal mesh aperture;easy to install.
2)Good protective properties,anti-impact forces, anti-theft alarm;typhoon/cyclone resistance;
3)Good transparency, good vision;it provide maximum corrosion resistance.
Leading market: Australia, New Zealand,USA,Dubai,Coastal countries of Africa and the Americas,
the Pacific Islands,etc.
Packing: water-proofed paper+wooden case.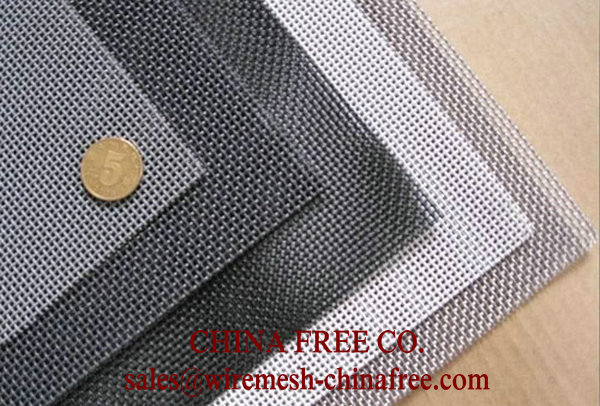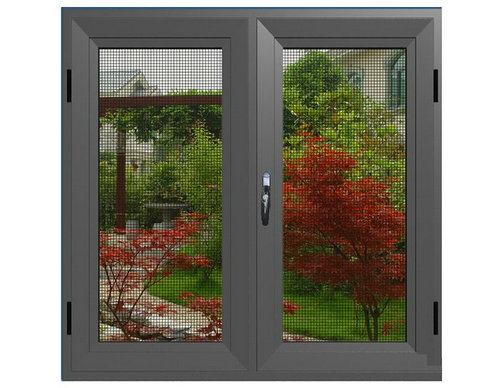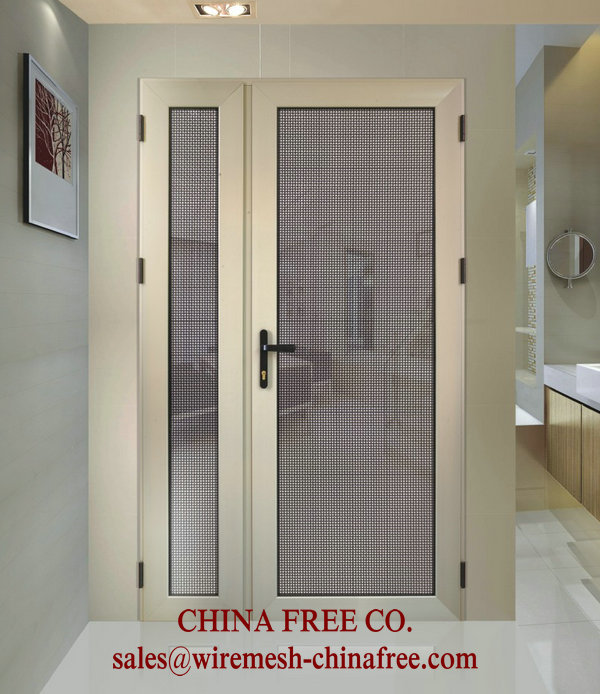 Reinforcing Welded Mesh
Reinforcing mesh has a wide variety of uses, ranging from the ordinary household to heavy industry.

Features of reinforcing mesh
● The unique deformed wire pattern offers superior bonding, improved stress distribution and crack-width control.
● BRC Mesh is available in a wide range of diameters and apertures. The product can be bent to shape as required.
● Manufactured from hard drawn wire (smooth) and cold rolled wire (deformed).
● All intersections are resistant-welded thereby not reducing the tensile strength of the wires.
● Mesh has an average shear strength equal to 80% of the wire strength.
● The wire used has physical properties which are rigidly controlled to produce mesh with maximum weld strength combined with ductility.
●Specifications allow for cold rolled wire with a minimum ultimate tensile strength of 510Mpa and a high resistance to fatigue.

Quality Control
Reinforcing mesh is produced to ISO 9001:2000. Thorough testing, of wire strength, welds and aperture sizes, is continuously performed at all stages of the manufacturing process.
Final inspections ensure that highest standards are maintained.

Standard Sizes:
Reinforcing mesh is available in rolls (60m x 2,4m) - up to Ref. 245, and sheets (6m x 2,4m) manufactured according to standard sizes. Wire diameter varies from 3,55mm to 12mm. Mesh aperture can be as small as 100mm x 100mm.
The preferred fabrics are categorized as follows:
Type A square fabric 200 x 200 spacing
Type B rectangular fabric 100mm main wire spacing
200mm cross wire spacing
Type C rectangular fabric 100mm main wire spacing
400mm cross wire spacing
Type D square fabric 100 x 100 spacing
Also available on request: hot dipped (galvanized) mesh.

Special Mesh
Specialized machinery is used to produce welded mesh with non-standard aperture sizes. The spacing of wires in either direction is variable between 13mm and 150mm.
Customized mesh is available on request according to specifications provided.
Standard sizes of welded mesh fabric
Specifications: Sheets: 6m x 2,4m or Rolls: 60m x 2,4m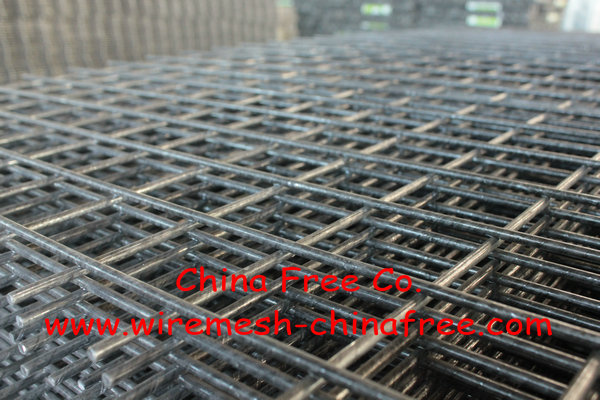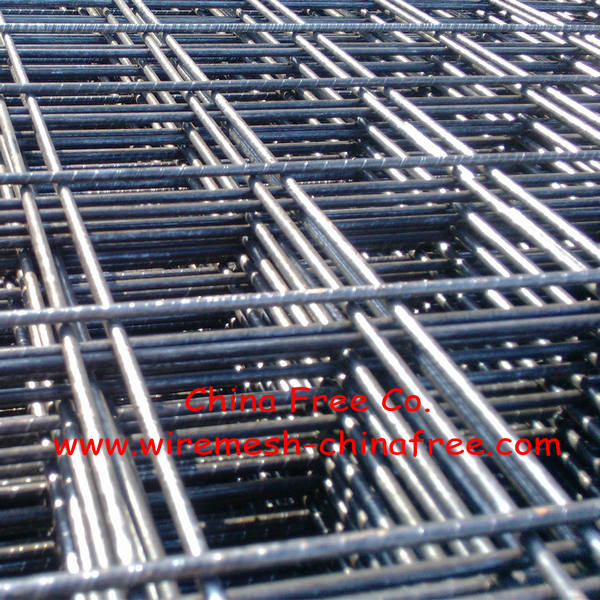 Wire Mesh Basket
We are a special enterprise for producing various styles of stainless steel disinfection basket and disinfection shelve.
The main material: 304、304L、316、316L, stainless steel electric welding mesh, stainless steel braiding net, stainless steel punching mesh.
Capability: nontoxic, tasteless, stable and durable. It is mainly used in disinfection of Medical Apparatus, food appliance, laboratory, etc.
The productions style can be designed by customers requirements.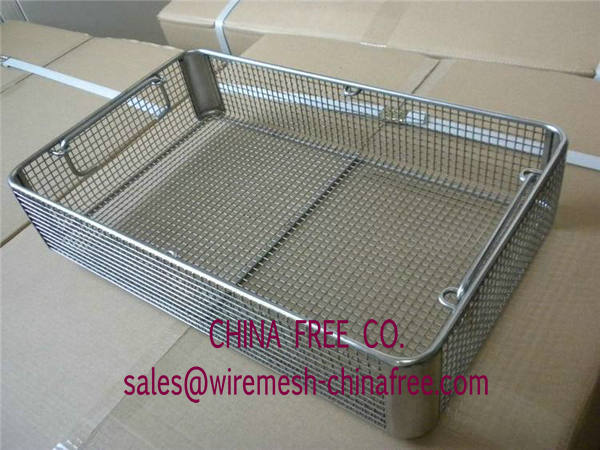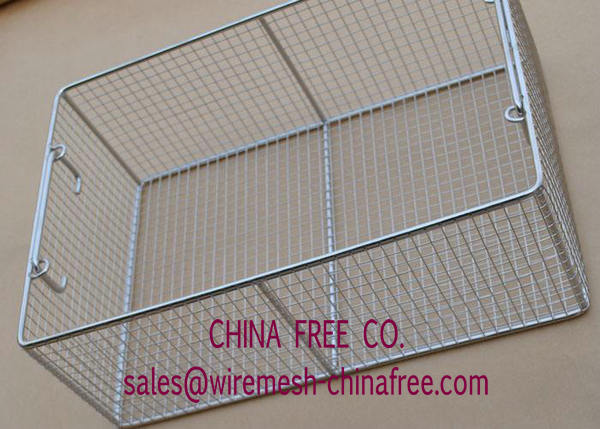 Fiberglass Mesh
Fiberglass mesh is woven by fiberglass yarn as its basis mesh, and then coated by alkaline resistant latex. It has fine alkaline-resistant, high strength, etc
Production process:Alkali-resistant fiberglass mesh is woven by fiberglass yarn as its basic material,
then coated by alkali resistant latex.
Main properties:
(1)chemical stability,acid and alkali resistant,Water-resistance, Erosion resistance of cement,Strong cohesive to the resin,Soluble in styrene,etc.
(2)high tensile strength,high modulus,softness.
(3)Good dimensional stability, stiff, smooth, not easy contraction deformation, location is good.
(4)Good impact resistance. (with high intensity, good toughness)
(5)Prevent mildew, insect-resistant
(6)Fire prevention, heat preservation, sound insulation,insulation.
Main Type of fiberglass mesh:
(1)Interior/external wall thermal insulation fiberglass mesh
It is widely used in reinforcing walls, natural marble, plaster board, artificial stone materials,
exterior insulation finishing system and renovating building surface;
Specification:
A:Mesh size:4x4mm/4x5mm/5x5mm
E:Color: white (standard), blue, yellow, etc;
F:Packing:Shrank wrapped each roll,6 rolls per carton or pallet.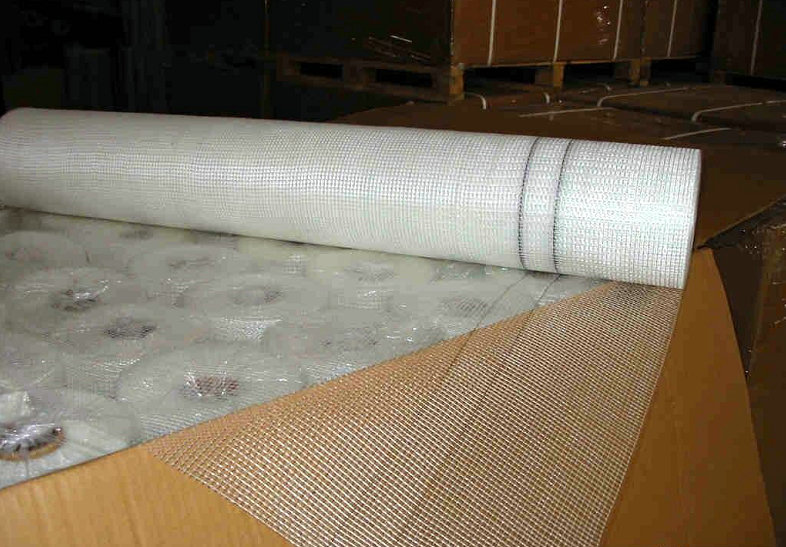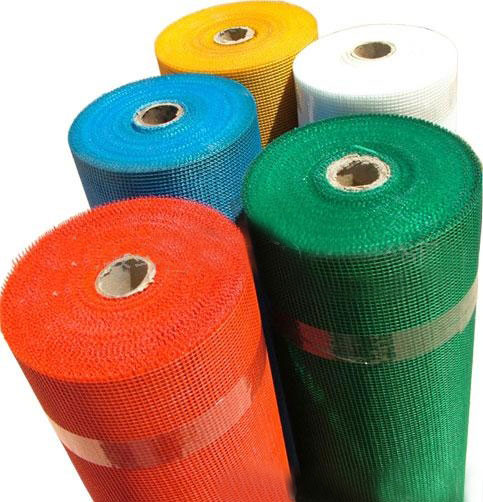 (2)Glass-fiber reinforced composite (GRC) mesh
It has good property of high tensile strength,alkali resistance,stable against alkaline materials.
It is an ideal reinforced material for the cements and concrete products.
Common specifications:
A:Mesh size:8x8mm,10x10mm,12x12mm
E:Colors : white(standard),blue,green, etc.
F:Packing: plastic bag each roll ,4 rolls a carton;or by pallet.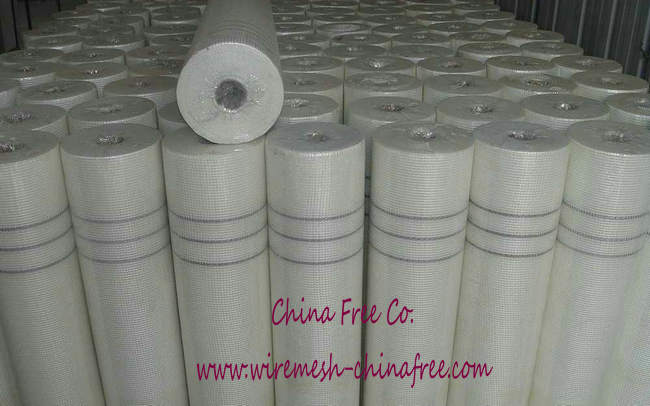 (3)Fiberglass self-adhesive mesh or joint tape
It use fiberglass yarns to weave into fabrics,then is coated with resin.It is very
self-adhesive,alkaline-resistant ,anti-corrosive. It can be widely used in jointing plaster plates,mending drywall cracks,
piecing together and make them join faster ,adhesive better and need not pasting or stapling.
It is not be easily torn ,shrunk and stretched.
Common specification:
A:Mesh size:4x4mm/5x5mm/2.85x2.85mm/3.10x3.10mm
C:Length/roll: 5m/10m/15m/45m/50m/100m/153m/200m
D:Width/roll: 25mm-1000mm
E:Colors : white(standard),blue,green,etc.
F:Packing:each roll shrank wrapped,24- -72 rolls in a carton.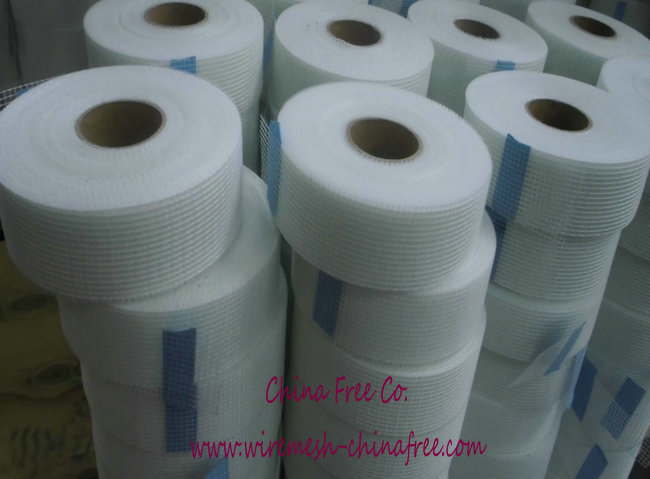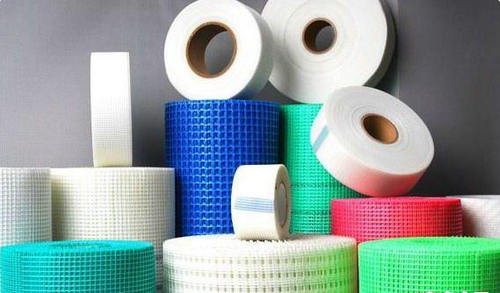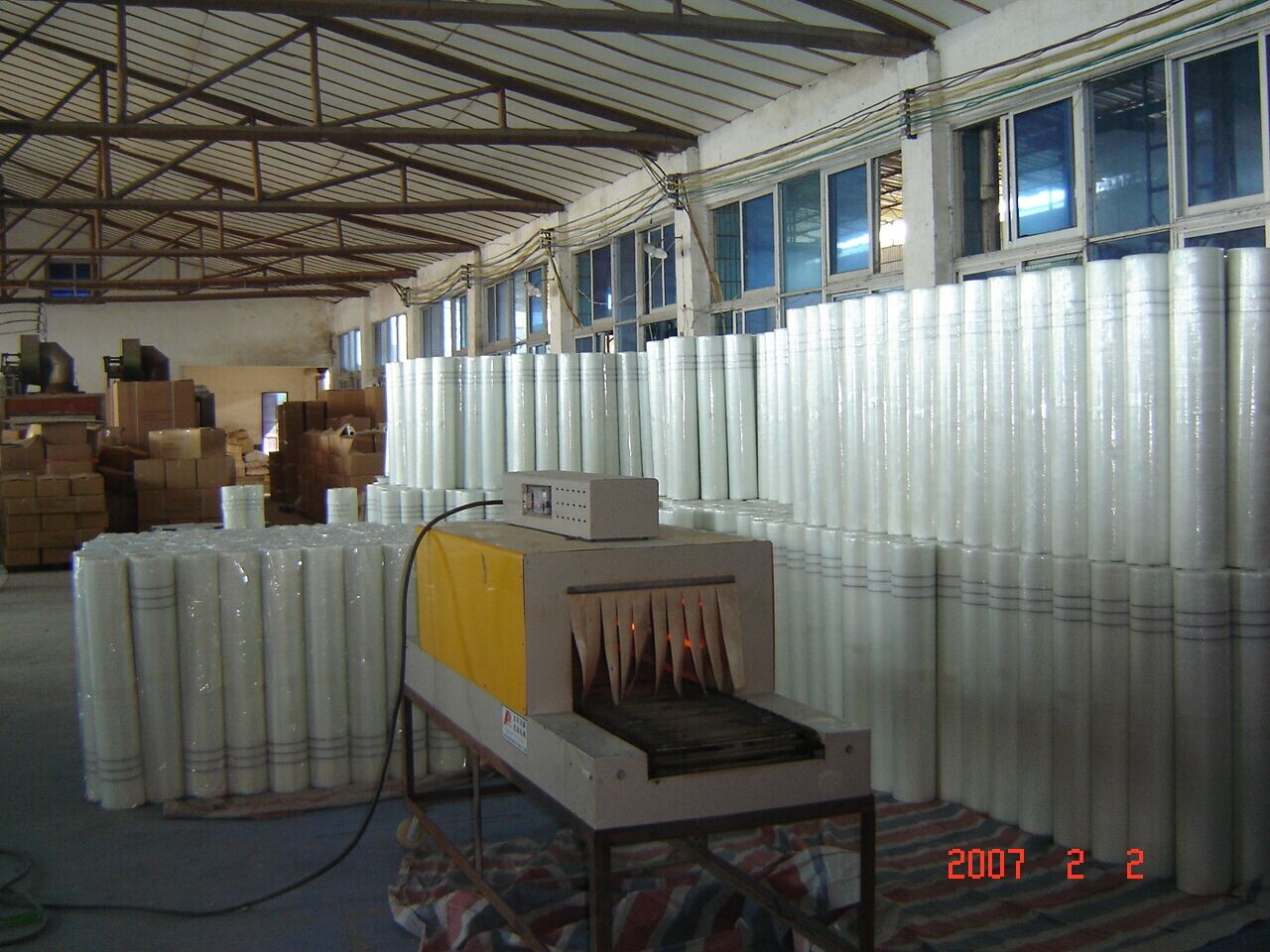 Window Screen
Fiberglass Window Screen
Material: Fiberglass
Type of weave: Plain weave
Common specification (mesh/inch):14×14, 16×14, 16×16, 18×16, 18×18, 18×14.20×20.
Standard Color: Gray, Black, White, Gray-white, Green and Yellow.
Regular Width: 3", 4", 5", 6". Length:10m, 15m, 30m.
Usage: Widely used in hotel, restaurant, communal building and residential houses to keep bugs out..
Advantage: Fireproofing, eroding resistance, no rust, easily washing, hot and cold-resistance, no rot and not to be eaten, steady frame.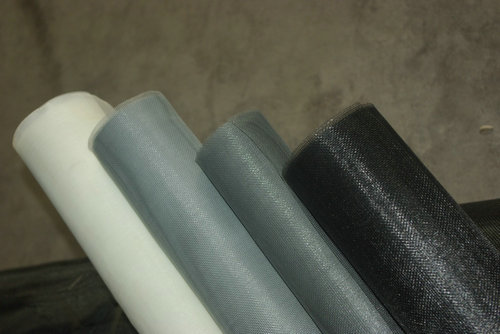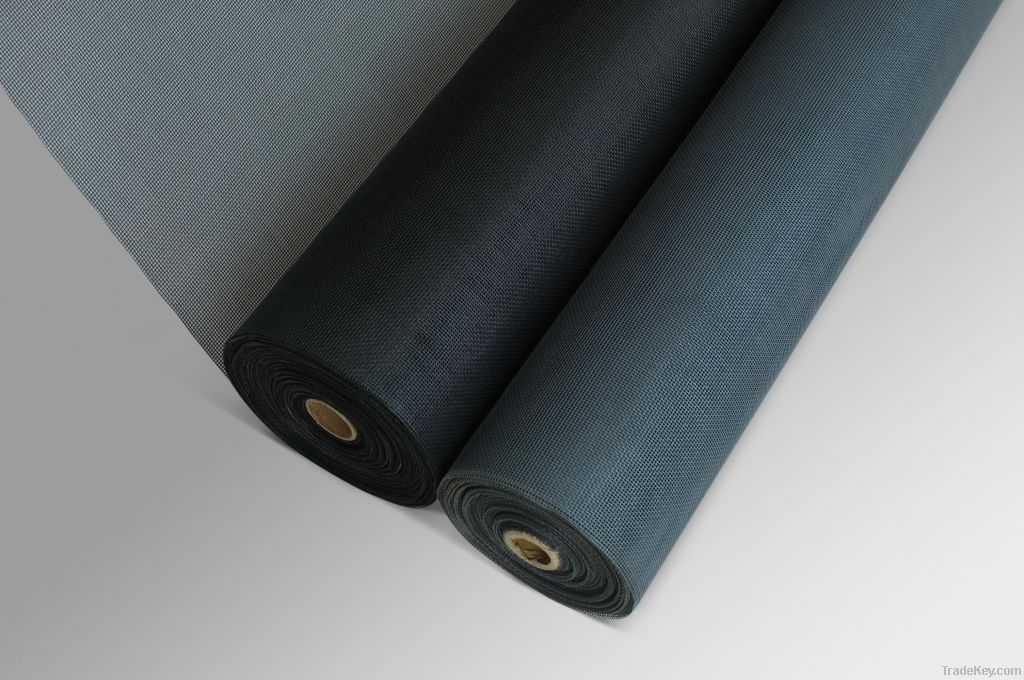 Aluminum Window Screen
Mesh

Wire Diameter(mm)

Roll Size

Color

14x14

0.21/0.23/0.25

width: 2' to 6'

length: 50' to 300'

Original White or

painting to black, grey

16x16

0.21/0.23/0.25

18x16

0.19/0.21/0.23/0.25

20x20

0.19/0.21

1.Material: high magnesium aluminum alloy wire.

2.Edge:folding and locking.

3.we also supply powder-painted aluminum window screen in various colors.

4.Packing: water resistance paper + carton.

5.Good property:Aluminum materials are renewable energy, green. Never rust, Suitable

humid environments, good toughness, high corrosion resistance, smooth mesh surface.

6.Usage:Widely used in home decoration, anti-mosquito, doors and windows,

all kinds of high-grade grille receives signals.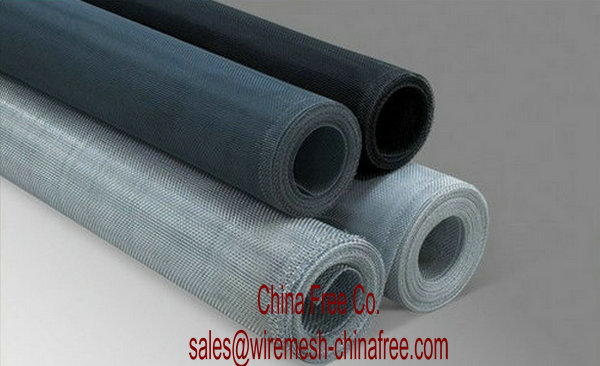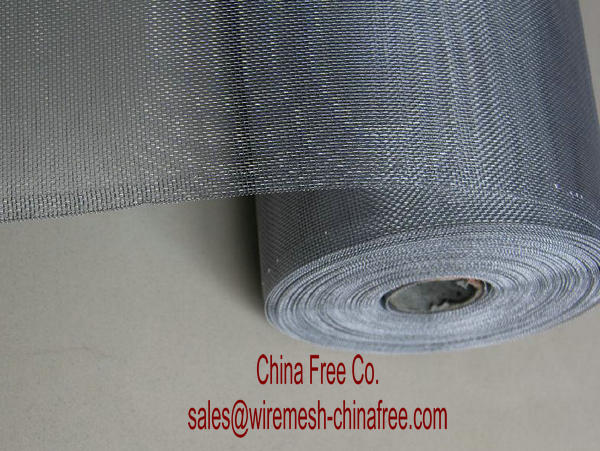 Plastic Window Screen
1.Material: HDPE wire, 100% pure new material.

2.Feature:light weight,Low price and fine quality;easy clean;acid and alkali resistant,

anti-corrosion.ventilated.

3.Application: used as window and door screen,insect protection net, greenhouse net,

grasshoppers proof netting,farm breeding private netting.