Chain link fence is made of quality galvanized iron wire or pvc coated iron wire,used for protection and security fencing. chain link fence is become one of the most popular fencing material all over the world. It is also named diamond wire mesh with the diamond opening, with excellent antioxidant property, chain link wire fence is widely used as fences in gardens, sports yard, airport, construction sites and animal farm, etc.
Chain link fence, also called chain link fabric, is a common protective mesh, with good feature,anti-rust, anti-oxidation, anti-UV, high strength, flat surface and durable.we supply a complete line of chain link products for residential, commercial and industrial applications, including chain link fabrics, chain link framework, chain link accessories and chain link gate.

Material:
Electro-galvanized wire with zinc weight 10-20g/sqm
Hot dipped galvanized wire with zinc weight 60-80g/sqm
High Zinc Volume galvanized wire with zinc weight 200g/sqm to 260g/sqm
Galfan Wire(Zn+5%Al or Zn+10%Al) with zinc weight over 200g/sqm
Stainless steel wire in SS 304 or 316
All the galvanized wire can be PVC coated for additional corrosion resistance and color.
Specification of Chain Link Fence:
Standard Sizes of chain link fence, other sizes can be customized.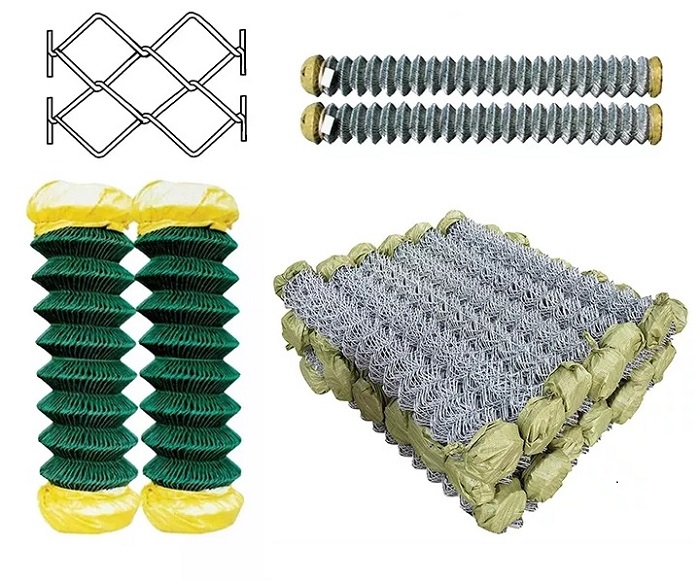 Applications of Chain Link Fence:
Chain link fence can be found everywhere from garden decoration to industrial facilities requiring high security fencing level. Moreover, chain link mesh is also the most popular material for building animal cages or partition panels.
Chain link fence can be used as fences in gardens, parks, roads, sports, industrial sites, sports field, river banks, construction and residence, also animal fencing,and used as slope protection net to prevent stones from falling.
Chain link fence with top rail: used for private houses, park and gardens;
Chain link fence without top rail: Used for goat fence and mountain forest fence;
Chain link fence with razor barbed wire: used for airport or farm fence;
Chain Link fence with frame: used for facility protection, zoo fence, stadium fence, temporary fence, etc.