Pvc coated welded wire mesh fence is a kind of 3D curved mesh fence, which is popular in many countries, the mesh fence panel is made of high quality steel wire,featured with V-shaped bends reinforcing structure, the curvy welded mesh fence panel provides economical solution for massive fencing projects. This is the best selling fence type all over the world.
Wire mesh fences are the perfect fencing solution for security and privacy. Wire mesh fence is consist of wire mesh panel, post, which make the fence easily to install. Welded Mesh fences have excellent anti corrosion coating to ensure a long time use, also are various in design and color, beautiful and generous, and can be agreed with the local environment and landscape according to the color deployment.

Advantages of Pvc coated welded wire mesh fence:
High strength, made of high quality carbon steel wire and steel post ,not easy to deformation.
Easy to install,simple structure, reduce construction costs.
Anti-demolition and antitheft, the mesh and the column will be tightly connected by galvanized anti-theft screws, effectively preventing man-made destructive disassembly.
Anti-UV, Corrosion resistance, galvanized coating or PVC coating can effectively prevent the fence oxidation rust.
Many colors, according to your environmental needs, choose the right color fence.
V bends of welded mesh fence panel:
These V bends will significantly enhance the sturdiness of the mesh, and there are different numbers of curves on the safety fence panels depending on the height.
Height: 630 mm, 830 mm, 1030 mm, 1230 mm (2 curves).
Height: 1530 mm, 1730 mm (3 curves).
Height: 2030 mm, 2230 mm, 2430mm (4 curves).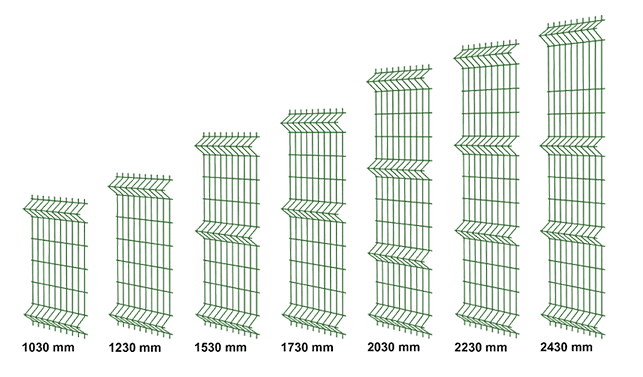 Specification of welded wire mesh fence:
Standard Sizes of welded mesh fence, other sizes can be customized.
Popular Specification for Wire Mesh Fence

Panel Height x Width panel (mm)
Post Height (mm)
Mesh Opening(mm)
Wire Diameter (mm)
Post/Colume
630x2500
1100

50mmx100mm

50mmx200mm

60mmx120mm

75mmx100mm

3.0mm, 3.5mm,4.0mm, 4.5mm,

5.0mm, 5.5mm, 6.0mm

Square Post:

40x40mm, 50x50mm, 60x60mm, 80x80mm.

Rectangular Post:

40x60mm, 60x80mm, 60x120mm

Peach-shaped Post:

50x70mm x 1.2mm, 70x100mm x 1.2mm.

Round Post: 38mm, 40mm, 42mm,48mm,60mm,80mm.

Thickness: 1.5 - 3.0mm

830x2500
1400
1030x2500
1600
1230x2500
1800
1430x2500
2000
1630x2500
2200
1830x2500
2400
2030x2500
2600
2230x2500
2800
2430x2500
3000
Surface Treatment of Wire Mesh Fence:
1. Hot Dipped Galvanized:
Through the Hot dipped galvanizing process after welding, a protective layer is formed on the steel surface. This coating can effectively prevent oxidation corrosion and prolong the service life of steel.
2. PVC Coating (Plastic Coating) or Powder Coating after galvanized.
We choose high quality powder for spraying, which combines with the galvanized layer on the steel surface to form a more effective protective layer. It can better prevent the steel from oxidation and corrosion, Therefore, our fencing system can stay beautiful and strong for a longer time, and this treatment will make the fence more beautiful.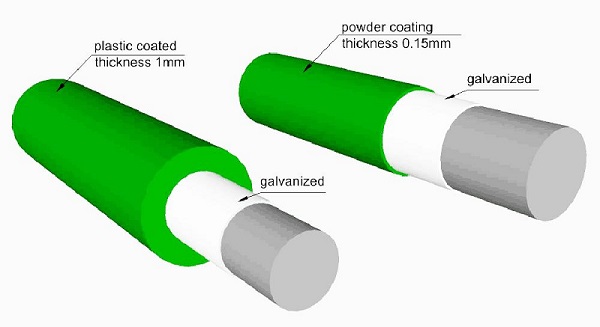 Two plans of fixing the mesh fence posts:
1.concrete in: directly embedded in the ground.
2.bolt down : with base plate, installing and fixing on the ground with anchor bolts and nuts.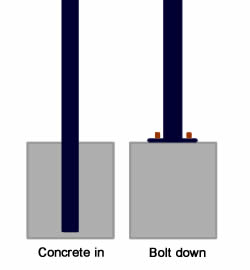 Welded Wire Mesh Fence structure is simple, convenient for transportation, and the installation is not limited by topographic relief, especially for mountainous areas, sloping fields, and multi corners areas. The fencing is durable, medium price, and suitable for large-scale use.
Welded Wire Mesh Fence Panel is recommended as security fencing for private estates, residential areas, housing, farms, gardens, industrial areas, sports facilities, parks, schools, playgrounds and sports field, airports, utilities, public building, sports areas, marinas, warehouses, factories.