Temporary fence is also called portable fence, movable fence, which are applicable to temporary isolation, temporary partition and temporary enclosure, they are highly flexible products. You can see Portable temporary fence everywhere in construction site, temporary protection, major sports events or activities, temporary isolation, quarantine station in the airport, large playgrounds etc.

Temporary fence mainly uses detachable components to connect the main part of the fence network with the base and guardrail column, which can be easily moved, installed and removed when needed. In addition to temporary activities, temporary fencing can also be used for workshop isolation, road fencing and machine protection.The temporary fence has many advantages. It does not require drilling, will not damage the ground, and can be reused.
We can supply four different types of temporary fences, including Australia temporary fence, Canada temporary fence, chain link wire temporary fence and crowd control barrier.

Temporary fence-Australia type:
Australia temporary fence is one of the most commonly used types of temporary fence, which is mainly composed of welded wire mesh panel and galvanized round pipe column, together with plastic base,clamps and other accessories to form a complete and effective defense barrier.
Specification for Australia type temporary fence panel:
Material: Low carbon steel
Wire diameter: 3 mm, 3.5 mm, 4 mm, 4.5 mm, 5 mm.
Welded mesh opening: 60 × 150 mm,75 × 150 mm, 75 × 75 mm, 75 x 100 mm, etc.
Frame pipe diameter: 25 mm, 32 mm, 40 mm, 42 mm, 48 mm, etc.
Pipe thickness: 1.3-3.5 mm
Regular Dimension: 2.1 × 2.4 m, 1.8 × 2.4 m, 1.8 × 2.9 m, 2.25 × 2.4 m, 2.1 × 2.6 m, 2.1 × 3.3 m, etc.
Surface treatment: Hot-dipped galvanized.
Plastic foot: 57 * 24.5* 13cm(L * W * H)
Main markets: Australia, Canada, America, European countries and Asia countries.
Others: different specifications are available according to customers' needs.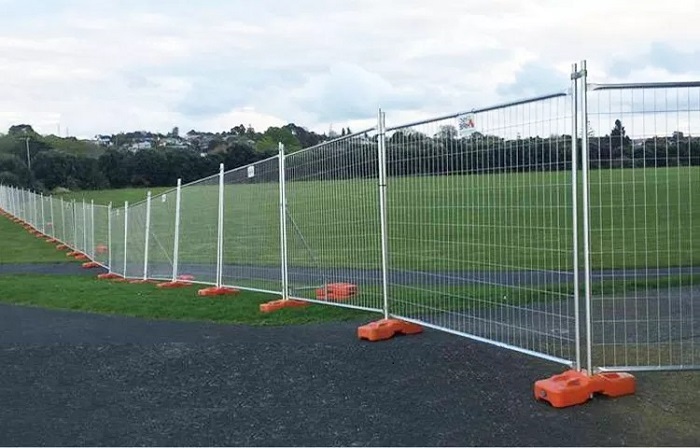 Temporary fence-Canada type
Canada style temporary fencing is made of galvanized square tube as its frame, with welded wire mesh inside the fence, it also named square tube temporary fencing. Generally the middle of the fence will have a square tube to enhance the strength of the fence. The top of the fence is joined with clips and the bottom foot is made up of flat iron plate. it is another common temporary fence.
Specification for Canada temporary fencing panel
Material: Low carbon steel
Wire diameter: 3 mm, 3.5 mm (popular), 4 mm
Mesh opening: 2" × 4" or 50 x 100mm
Frame shape: Square, 1" x 1", 1.5"x 1.5", etc.
Frame thickness: 1.5 mm, 2.0 mm, 2.5 mm, 3.0 mm
Reinforced frame: 20 mm × 20 mm, 25 mm × 25 mm, etc.
Panel size: 2.1 × 2.4 m, H: 3.75', 4', 6', 8'; L: 8', 8.5', 9', 9.5', 10', etc.
Surface treatment: Galvanized with powder coated or painted
PVC coating colors: Green, blue, red, orange, yellow
Metal foot: 100 * 600* 6 mm or customized.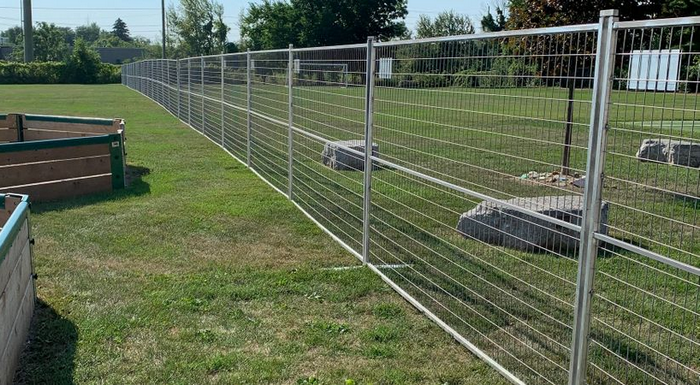 Chain link temporary fencing
The temporary fences with chain link mesh use galvanized round pipe as the frame, and the interior of the fence is filled with chain link mesh, which can be directly connected to the galvanized round pipe frame. When the dimension size of the temporary fence is large, cross reinforcing pipes can be added in the middle of the fence to improve the stability of the temporary fence.
Material: Low carbon steel
Surface treatment: Hot-dipped galvanized or PVC coated
Mesh size: 50 mm × 50 mm, 60 mm × 60 mm, 70 mm × 70 mm, etc.
Wire diameter: 2.5 mm, 3.0mm, 3.5mm, 4mm, 5mm, etc.
Height × Length: 2.1 m × 2.4 m (regular size), 1.8 m × 2.4 m, 1.8 m × 2.9 m, 2.25 m × 2.4 m, 2.1 m × 2.6 m, 2.1 m × 3.3 m
Frame Pipe: Round, 25 mm, 32 mm, 38 mm, 40 mm, 42 mm, 48 mm
Pipe thickness: 2.0 mm, 2.2 mm, 2.3 mm, 2.5 mm, 2.75 mm, etc.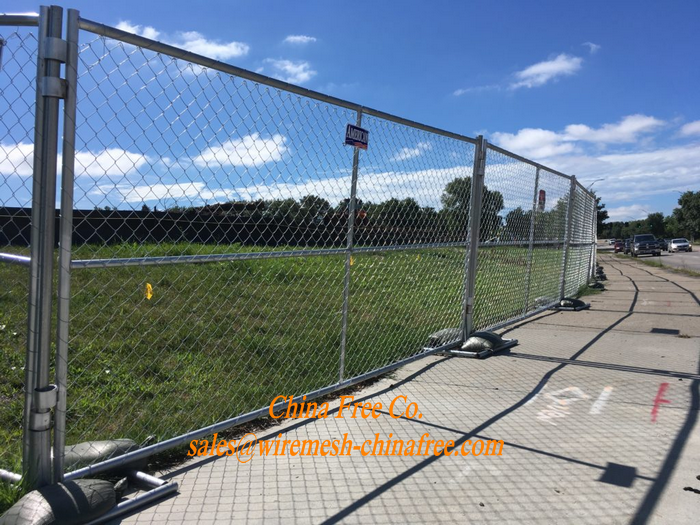 Removable Temporary crowd control barrier.
When we want to hold some outdoor public meetings, festivals, sports events, concerts and other temporary activities, we can use this kind of fence which is easy to install, dismantle and move.
Specification for crowd control barrier:
Height: 1000mm,1100mm, 1200mm, 1500mm
Length: 2000mm,2200mm, 2500mm
Frame: 30mm, 38mm, 40mm, 42mm
Inside Pipe: 16mm, 20mm, 25mm, 32mm

Common Specifications for crowd control barrier with tube feet
Height * Length: 1090 * 2000 mm
Frame pipe: 32 * 1.5 mm, inside tube. 16 * 1.2 mm
Distance of inside tube: 118 mm, 14 pcs tube
surface. hot dipped galvanized after welded
zinc coated: 400 ghm2

Connection: Metal Hook
Base foot: Metal Base Foot
Surface: Hot Dipped Galvanized (505g/m2), or Electric Galvanized + Polyester Powder Coated (AII colors in RAL.)
Different Feet: Cross Feet, Flat Feet, Bridge Feet, etc.